Jeep vs Truck: Which One You Should Buy?
The decision between Jeep vs Truck often leaves consumers in a painful situation. Both vehicles have characteristics and distinctions, catering to different lifestyles and needs. Choosing a vehicle is not a matter of picking one point. Choosing the right vehicle by prioritizing your preferences, personality and needs reflects ideal thinking.
Jeep always leads the competition in off-road adventures where the truck's towing capacity plays a role. The difference between a Jeep and a truck is endless. You should choose the right vehicle based on your lifestyle and needs.
Both jeeps and trucks are famous for certain characteristics. Make the right decision by keeping in mind what features, what benefits, what cost-effectiveness etc. Some key differences are analyzed to help you select the right vehicle for you
Quick Comparison Between Jeep Vs Truck 
Jeep vs Truck Which is Better? Which one should you buy? These can be a hugely extended discussion. You should choose the one that suits your needs according to your personality. Here is a table guide comparing Jeeps and Trucks.
| | | |
| --- | --- | --- |
| Facts | Jeep  | Truck |
| Off-road Capabilities | Jeep is a stable vehicle when it comes to off-roading. This Jeep is a supportive vehicle in any challenging terrain. | The trucks are not as high powered as the Jeeps but are equipped with many modern impressive off-road packages. |
| Towing Capacity  | A Jeep has a towing capacity of about 6,200 to 7,200 pounds. | The trucks have a towing capacity of 8,000 to 20,000 pounds depending on the model and configuration. |
| Fuel Economy  | Jeeps are able to provide an average fuel efficiency of around 25-30 MPG. | The truck achieves fuel efficiency of around 20-25 MPG. |
| Interior Comfort  | -Jeep is well known for its unique cabin design.-The Jeep Wrangler's removable doors and tops are a unique feature.-Jeep cabins offer comfortable driving despite being compact. | -Trucks offer comfort as per interior demands.-Offers spacious cabins with various amenities.-Premium leather seats, noise-canceling technology etc. are features of modern trucks. |
| Price Comparison  | $43,541 – $83,199 | $36,800- $69,900 |
| Safety Features | -Roll bars and reinforcements that help reduce hazards during off-road adventures.-Equipped with an advanced airbag system.-The electronic ESC system helps in controlling the vehicle's engine. | -Advanced Driver Assistance System (ADAS) equipped with features like emergency braking.-The truck has a trailer sway control system that stabilizes dangerous swaying motions.-Helps trucks maintain traction and stability in challenging conditions. |
Jeep Vs Truck Comparison in Detailed  
A truck and a jeep express their distinct differences. On top of their popularity, the two vehicles have their characteristics, qualities, etc., that create heat among all. We will help you choose your vehicle through some detailed discussion considering the different features of Jeep and Truck.
Off-road Capability 
Jeep: Iconic Jeeps are vehicles engineered to tackle any rough terrain. Its compact size with 4WD system allows the jeep to maneuver on narrow roads. This jeep is adept at conquering any obstacle on the off-road. It must overcome any rough terrain, ensuring impressive ground clearance.
Suspension systems are effective in absorbing shock impacts for a smooth ride.
Jeeps are known for their off-road capabilities as well. Crossing rivers and streams and climbing high mountains are also possible. Jeep can optimize performance in a wide range of their off-road modes.
Truck: The truck brings some off-road versatility. The trucks endure the harshest terrain and carry some adventure. Its powerful engine with high ground clearance is well-equipped for off-road adventures. The trucks maintain stability on uneven surfaces, creating a dynamic ride.
The truck is designed to climb steep inclines. Their powerful traction control systems make sure to take enough loads. The performance of wheels plays a major role in maintaining traction by preventing skidding.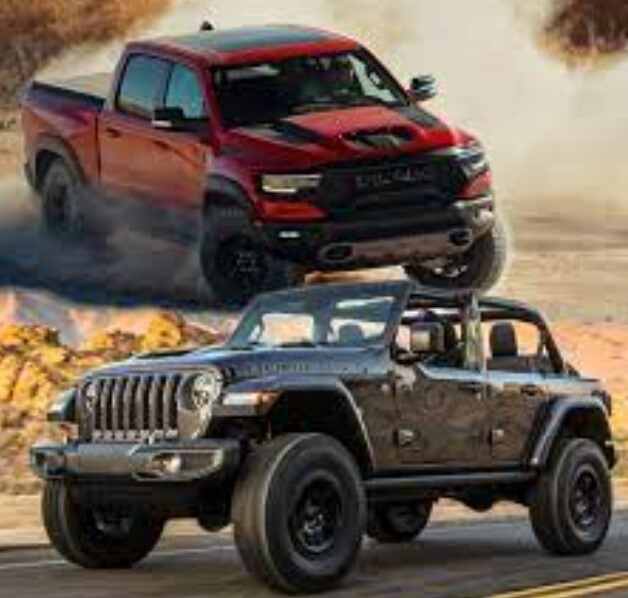 Towing Capacity 
Jeep: Jeeps are famous for their off-road prowess. Jeep models display impressive towing capacity. The Jeep Wrangler can make it suitable for a range of towing jobs. Jeeps can tow comfortable trailers and lightweight campers. This ensures a towing capacity of up to around 7,200 lbs. Adventure travel can mean something other than carrying heavy loads. Offering a balance between off-road capability and towing, then a suitable answer might be the jeep.
Truck: The powerful muscles of towing trucks are known for their strength and utility. Trucks dominate the towing area. These trucks are engineered to carry loads with heavy towing capacity. Their powerful engines and sturdy frames command the load to pull.
These trucks can carry heavy loads from 5,000 pounds to more than 20,000 pounds. The trucks ensure that you can tow all the work equipment with confidence. When considering towing capacity between a Jeep and a truck, the truck is always ahead.
Fuel Economy 
Jeep: Jeeps have made strides in fuel economy while maintaining off-road capabilities. Modern Jeep models are equipped with innovative technologies to enhance fuel efficiency, including the Jeep Wrangler. Jeeps are also known for their off-road capabilities and fuel economy nowadays. Jeep offers an estimated 24 city / 27 highway MPG.
Makes an aesthetic choice for urban adventures. The Jeep Hybrid and Plug-in Hybrid variants combine off-road prowess. These models will give you enough confidence to go off-road.
Truck: Trucks are working to improve the economy. Trucks consume relatively more fuel due to their size and weight. With time these trucks are being directed towards better efficiency. Some trucks offer hybrid or diesel options. It's more than just delivering good fuel economy without sacrificing towing capability. The truck achieves a fuel efficiency of around 20-25 MPG with a focus on efficiency when towing.
Interior Comfort 
Jeep: Jeep Wranglers come for adventurous adventures. Well known for its famous attitude and comfort. If one is looking for comfort while traveling off-road, then jeep will be suggested. Jeep is an ideal choice for passenger service and cargo transportation.
The cabins of the jeep showcase an aesthetic design and are open in shape. Jeeps equipped with modern infotainment systems are unmatched. Jeep Wranglers carry all-terrain features. Its smooth driving is nothing to worry about.
Truck: Trucks are mainly known for carrying loads. Its spaciousness is ideal for carrying enough passengers or goods. There is no substitute for a truck for long journeys. Adequate storage as well as ergonomic controls, play an effective role.
The vehicle provides a smooth ride on uneven terrain based on the truck's stability. The spacious cabins feature multi-function climate control that ensures passengers' and drivers' safety.
Price Comparison 
Jeep: Jeep is an iconic vehicle with a slightly higher purchase price depending on its quality and off-road performance. It is a modern vehicle with advanced technical standards as well as the components used. Initial pricing ranges from $43,541 to $83,199. Modernity contributes to higher cost potential to improve further.
Truck: Trucks have a wide range of prices. Trucks are priced keeping in mind the basic offerings to suit different budgets. Jeep's iconic brand status and off-road capabilities increase the price range. A truck can be priced from $36,800 to a maximum of $69,900. Some may be higher or lower based on market price bargaining.
Safety Features
Jeep: Safety is the most important step in choosing a vehicle. All drivers and passengers both want safe and confident driving. Jeeps enhance road safety through ADAS systems. This system takes care of features like cruise control, lane departure warning and automatic emergency braking,
Multiple airbags enhance passenger safety in the event of an accident. Conquering Challenging Terrain Jeeps are well known for their off-road capabilities. Multiple airbags increase passenger safety in the event of an accident. Cross-traffic alert system that enhances situational awareness. Child safety prevents the inadvertent opening of rear doors.
Truck: A truck user must understand the truck's safety before using it. Trucks are modernly designed to prevent accidents. Sensors detect obstacles and automatically brake or steer to help avoid hazards. Structurally rigorous engineering and construction techniques help ensure passenger safety. The Strategic placement of airbags effectively prevents accidents. Advanced integrated trailer brakes help maintain control.
Final Word 
Truck vs Jeep features and quality explanations are breathless. Both vehicles are perfect for off-road aspirations or for carrying heavy loads. Make the final decision based on your needs, budget and the type of adventures you want. Jeep vs Truck: Which One Should You Buy in Comparative Considerations?
Analyze the strengths and weaknesses of both vehicles and highlight their capabilities, features. A detailed guide will help you choose the right vehicle by observing the partial concept of the two vehicles.
FAQs
Q. Can a Jeep tow a trailer like a truck?
Jeep's tow trawler is a standard strong. It can carry enough cargo for an adventure ride, and its engine usually has a higher towing capacity.
Q. Is it harder to drive a truck than a jeep on a narrow trail?
Driving a truck is challenging compared to a jeep on narrow trails. Because trucks are bigger than jeeps, skilled drivers can maneuver the truck through any terrain.
Q. Which car provides better fuel efficiency?
Jeeps provide good fuel efficiency due to their small size and lightweight. Trucks offer more power and towing capacity than that. Both vehicles strike a balance between fuel economy and performance.
Q. What is the resale value for trucks and jeeps?
Both trucks and Jeeps can fetch good resale value if they maintain quality. Jeeps have iconic status and trucks have their carrying capacity right.