Nitto Ridge Grappler Vs BFG KO2: Which One to Choose?
Accidents and unpleasant journeys due to wrong and bad tires are common phenomena. So, choosing the suitable one is very important. And, among the charts of dependable tires, Nitto Ridge Grappler and BFG KO2 are at the top.
But which is best for you between these two: Nitto Ridge Grappler vs BFG KO2? Both are all-terrain tires. However, Nitto performs better in muddy terrain, while BFG  shows excellent performance in snow. Other factors like price, wear and tear, etc., must be considered.
Here, we will emphasize the pros and cons of both tires. We will also discuss when and why which tire is most suitable. So, let's read forward.
Table: Nitto Ridge Grappler vs BFG KO2- Pros And Cons
Below, we have shared a chart showing the pros and cons of the two tires. Let's take a look.
| | | |
| --- | --- | --- |
| Differentiating Criteria | Nitto Ridge Grappler | BFG KO2  |
| Best Suitable Condition | Highway, wet areas, small trucks, etc | Overlanders, snowy areas, trucks, etc |
| Tire Type | All-terrain, best performance, mud-terrain. | All-terrain, best at snow. |
| Tread Pattern | More aggressive | Less aggressive |
| Average Tread Depth | 16.4/32" | 15/32″ |
| Tread Width | 9.76″ – 13.58" | 8.5″ – 13.5″ |
| 3PMSF Certification | No | Yes |
| Traction | Wet and snow traction is limited to 2 tons | Excellent wet and snow traction and limited to 3 tons |
| Recommended for | SUVs, CUVs, and light trucks (less than 3 tons).  | Heavy-duty trucks and other vehicles (3 tons or more). |
| Maximum Inflation Pressure | 44 psi to 80 psi | 35 psi to 80 psi |
| Maximum Load Capacity | 2271 pounds to 4079 pounds | 1764 pounds to 4079 pounds |
| Average Load/speed rating | 124/121Q | 121/118S |
| Noise | Less noisy | Noisier |
| Harshness | Rides feel less harsh | Rides feel harsher |
| Price | $222.00 – $860.00 per tire | $195.99 – $648.99 per tire |
Nitto Ridge Grappler vs BFG KO2- Which Is Better for You And Why?
Some crucial things must be considered while purchasing a tire. This covers your living area, the condition of the road you usually traverse, the path you intend to use the vehicle for, etc. You also need to consider the vehicle's weight, the type of vehicle, and so on. 
Knowing the above criteria will help you to decide on the characteristics you need to look into your new tires. Thus, you can decide on suitable tires.
Here, we will briefly discuss the characteristics of these tires. We will also focus on the use of these tires in some special situations. So, stay tuned to learn more.
1. Performance
To judge an all-terrain tire, the first and foremost thing is to observe its performance in the three main conditions: dry, wet, and winter. Below, we have briefly discussed their performances under these three conditions.
To evaluate the dry performance, you need to consider three conditions: cornering stability, dry traction, and steering feedback of these two tires. We have discussed these criteria below.
Cornering Stability Control
While taking a sharp corner turn, both tires showed excellent control. However, when considering the sidewall stiffness that directly influences the tire's vibration, the Nitto Ridge Grappler is better at performing off-road. 
However, when considering the on-road performance, the BFG KO2 shows superiority.
The Nitto Ridge Grappler shows better control over dry traction. The design of this tire is unique and more suitable for these types of roads. However, for bigger vehicles, you need to choose the BFG KO2 tires.
Low inflation pressure usually results in heavy steering feedback. That is, heavy-weighted tires affect the steering feedback negatively.
Considering the design, the BFG KO2 is slightly lighter than the other one. Thus, from this perspective, BFG is a better choice.
Nitto is designed to give the same consistent performance during wet traction, while BFG will start to show lower wet performance after 15,000-20,000 miles. 
BFG is designed to have two different layers. When the outer soft and smooth layer wears down, the other stiff layer can not maintain the same performance anymore.
So, for long-term use, Nitto is the preferred one.
If you are looking for a great experience during the snow, go for the BFG KO2. This tire is specially made for use in the snow.  Also, the BFG tires are 3PMSF certified, while the Nitto tires are not.
While Nitto Ridge Grappler is a good choice for all weather, it is only suitable for light snow during the winter. So, if your region has heavier snowfall, go for the BFG tires.
2. Durability And Tread Life
The durability and tread life of a tire mostly depends on its usage. The heavier the load, the faster the wear rate will increase. To properly evaluate this, we have divided it into two more sectors: wear & tear on highway and off-road.
Wear & Tear On Regular Highway
Both of these tires are great on the highway. However, if we consider the wear and tear and irregularity of wear, then BFG KO2 is better than its counterpart.
Nevertheless, these performances can be influenced by speed, driver preference, road conditions, etc. So,  the choice depends on you.
Above all, both of these tires have 3-ply sidewalls. So, they exhibit outstanding durability. However, as the BFG KO2 is designed for heavier loads, it is more durable than Nitto on highways.
While dealing with the off-road heaviness, the tires also need to be stiffer.
The Nitto Ridge Grappler is a stiff and strong tire, which is an excellent choice while dealing with the off-road. On the contrary, the BFG KO2 has a smoother cover, which is more prone to tear and wear while driving off-road.
Also, the average tread depth and width of the Nitto tires are larger than the BFG tires. 
For the Ridge Grappler, the average tread depth is 16.4/32", and the tread width is 9.76″ – 13.58". The BFG tires have a 15/32" average tread depth and 8.5″ – 13.5″ tread width.
So, the Nitto tires are a better choice for off-roading.
Other Factors Affecting Durability
Except for these criteria, inflation pressure, load capacity, and load/speed rating also influence the durability of a tire.  However, you will find a long range of different values for these factors. Below, we have discussed more. 
Inflation Pressure of Tires  
You will find 40 to 80 psi inflation pressure tires among the Nitto, while among the BFG, it is between 35 and 80 psi. Choosing the right tire inflation pressure will affect the lifespan of your tires and their wear and tear rate.
To find the appropriate tire inflation pressure for your vehicle, look at the manual that comes with it. As both of these tires offer a long range of inflation pressure, you can easily grab the tire with the recommended inflation pressure range. 
Load Capacity
The load capacity of a tire indicates the maximum weight that a tire can safely carry when properly inflated to the recommended pressure. You will find the recommended load capacity in your car's user manual. To maintain a long lifespan and have a safe journey, you should never exceed this limit.
The maximum load capacity of Nitto tires varies from 2271 pounds to 4079 pounds, while for BFG tires, it varies from 1764 pounds to 4079 pounds. They give almost the same load capacity and make no big differences here. So, regarding this segment, you can choose any of them.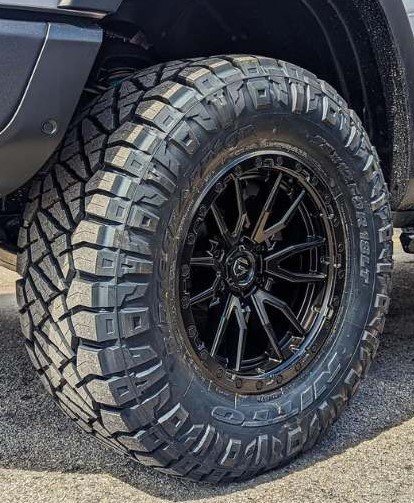 Load/Speed Ratings
Every tire comes with a preset limit of maximum speed capability and a load capacity of how much weight it can carry safely. If you exceed any of these ratings, your tire will wear more quickly. Also, your tires may fail during the journey for overloading or overspeeding.
The load/speed ratings for Ridge Grappler are 124/121Q. It means the load index of the tire is 124, and the speed rating is "Q." That is, your tire's maximum load capacity is 3,527 pounds (1,600 kilograms) per unit, and the maximum speed capability is 99 mph (160 km/h).
On the other hand, the load/speed ratings for the BFG KO2 are 121/118S. It means the load capacity of the tire is 3,197 pounds with a maximum speed of 112 miles per hour. 
3. Traction In Muddy Environments
The Nitto Ridge Grappler has a very good grip in muddy environments due to its special zigzag design. It also has shoulder grips, so it can bite the road perfectly, giving a better ride experience and smoother driving. Also, check BSW vs OWL Tires
Though you can use the BFG KO2 on muddy roads,  it is not a great choice. The riding experience will not be as great as with the Nitto tires.
4. Tread Pattern 
The Nitto Ridge Grappler follows a hybrid build of all-terrain and mud-terrain tires, while the BFG KO2 follows a true all-terrain tire build.
Nitto has big, aggressive shoulder lugs and sidewall blocks. So it is easier to get a grip on muddy roads.
On the other hand, BFG is designed with large, interlocking shoulder blocks and sidewall lugs. The tread is heavily siped to enhance traction on wet surfaces and provide a better grip on snow and ice
5. Noise
The Nitto tires have a unique noise reduction system. This surely makes them one of the eyecatchers among these all-terrain and rug terrain tires.
There is a narrow but void area in the center of the Ridge grappler. This space works as a noise reducer.
Conversely, the BFG KO2 tires focused more on heavy-duty. Thus, it has many hash marks inside the tire. So, it is not as quiet as the other one because of its tread patterns.
6. Comfort
To make an all-terrain or mud-terrain tire, the manufacturer needs to add some special materials. This will make the tires strong and stiff. It surely improves the gripping quality; however, it reduces comfort compared to touring tires.
Among the two tires compared, the Nitto Ridge Grappler is more suitable for muddy terrain. So, it is stiffer than the other one.
On the contrary, the BFG KO2 tires' outer layer is smoother than Ridge Grappler. So, of course, you will feel more comfy while riding the BFG. 
However, no matter what, they still need to improve in this perspective compared to touring tires. So, do not expect the same experience from these tires.
7. Pricing
While we talk about this side, surely the price of a tire can vary depending on its appearance, performance, and some other factors. 
Usually, you can buy a Nitto tire within the price range of $222 to $860, while for the BFG tires, you only need to spend between $195 to $648. That is, Nitto is more costly than BFG.
8. Treadwear Warranty
Among these two tires, Nitto does not offer any warranty, while the BFG KO2 has sixty thousand miles and a six-year warranty. It also gives you a 60-day trial period. If your tire does not meet your expectations, you can return it within this time.
Nitto Ridge Grappler vs BFG KO2: Which One To Go For?
If you are an SUV or CUV user, the Ridge Grappler is the perfect choice for you. However, if you live in a heavily snowy area and must deal with wet roads continuously, go for the BFG.
Also, if you prefer a noise-free ride, Nitto is the best choice for you. However, you should choose BFG in case you prefer more durability over quietness. Anyway, for 2 tons or more of heavy trucks, BFG is the best choice.
Watch this:
So overall, for a quiet and smooth ride with an excellent grip on muddy terrain, you cannot go wrong with the Nitto tires. And to have a safe journey on a wet road with your heavy trucks, BFG will never betray you. Hence, choose the one that meets your needs.
Final Words
While considering Nitto Ridge Grappler vs BFG KO2, the decision mainly depends on you. If you want a more aggressive appearance and muddy-terrain tires, you can never go wrong with the Ridge Grappler.
However, if you need an all-terrain tire that can offer you some heavy-duty performance while ensuring good safety, go for the BFG KO2. Also, for heavy snow regions, choose BFG tires. 
Nevertheless, you should consider your vehicle's type and size. Nitto is best for SUVs and CUVs, while BFG is best for three or four-ton trucks. So, choose according to your needs!