Exploring The Best Off-Road Trails In Maryland
Off-road trails in Maryland offer an adrenaline-packed gateway to the state's diverse landscapes. From dense forests to coastal vistas, these trails promise adventure for thrill-seekers and nature enthusiasts alike.
For adventure enthusiasts, nature lovers, and anyone with a penchant for exploring the road less traveled, Maryland's off-road trails present an enticing opportunity to escape every day and delve into the heart of its scenic wonders.
What kind of landscapes do off-road trails in Maryland offer?
Maryland's off-road trails present vast terrains, encompassing lush woodlands and captivating coastal views. This creates an electrifying escapade for both adventure seekers and nature lovers.
Let's explore Maryland's off-road culture, unveiling the concealed treasures within its landscapes while expertly leading you through the finest off-road trails.
Ensure your seatbelts are securely fastened as we prepare to navigate the winding paths and exhilarating features of Maryland's untamed splendor, providing you with an entirely fresh perspective on the art of off-roading.
Top Off-Road Trails in Maryland
Outdoor lovers can have exhilarating experiences amidst the state's breathtaking natural beauty on Maryland's broad off-road routes. These range from the picturesque mountain walks in Patapsco Valley State Park to the challenging ATV trails of Savage River State Forest.
Let's discuss 5 off-road trails that will ignite your adventure challenge.
Green Ridge State Forest Trails
Green Ridge State Forest in western Maryland is a hiker's paradise, with over 50 miles of interconnected trails winding through its vast 49,000 acres.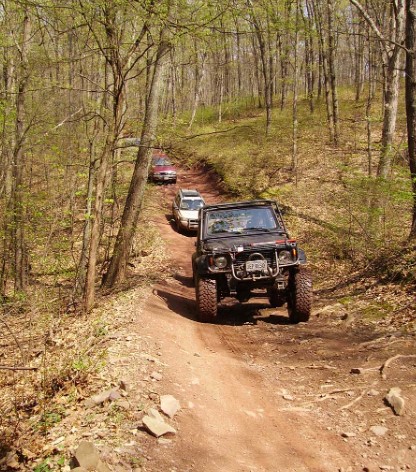 The drive to reach the state forest is an adventure in itself, taking you through the beautiful countryside and small towns along Maryand's scenic byways.
Once you arrive, there are several trailheads to choose from. The popular 24-mile Green Ridge linear trail starts from the Big Savage parking area off MD 36 and follows the former railroad bed along the Eastern Continental Divide.
With its Adirondack shelters and remote wilderness scenery, it's a favorite for backpackers looking to immerse themselves in nature.
For day hikers, the Bathhouse Trailhead near Flintstone, MD offers easier access to a network of trails leading to scenic overlooks of 64-acre Bathhouse Pond and the surrounding forest.
The Rocky Gap Trailhead near Rocky Gap State Park also connects hikers to miles of trails and old logging roads traversing lush hollows and ridgetop vistas.
Whether you're driving in for a day hike or backpacking adventure, the extensive trail system at Green Ridge State Forest promises a rejuvenating escape into Maryland's wilderness conveniently close to home.
Just be sure to stop for some fresh mountain air and gorgeous views along the country roads on your way.
Savage River State Forest Trails
Savage River State Forest in western Maryland offers over 54,000 acres of rugged natural beauty conveniently accessible after a scenic drive on winding mountain roads.
On the way to the forest, you'll pass through quaint towns and enjoy breathtaking vistas of the surrounding valleys and ridges.
Once you arrive, there are several trailheads to choose from. The popular Meadow Mountain Trailhead on Meadow Mountain Road provides access to hiking and biking trails ranging from easy to demanding, winding through diverse ecosystems.
The Savage River Trailhead connects equestrians and hikers to miles of trails following the river and crossing historic railroad beds.
For backcountry adventures, the forest road system allows you to reach remote trailheads deep within the forest. Traverse universe trails over rocky outcrops and mountain streams, stop at overlooks for stunning views, and find solitude in the wilderness.
Whether arriving for a short hike or a backpacking trip, Savage River State Forest promises a rejuvenating escape into nature, with plenty of sights along the country roads getting there and rugged trails to explore once you arrive.
Assateague Island National Seashore Trails
Reaching Assateague Island requires a scenic drive over the Verrazano Bridge onto the island, where pavement soon gives way to sand roads.
As you bump along the sandy tracks, herds of wild horses frequently wander past, welcoming visitors to their domain.
Once you arrive, miles of pristine beach await exploration. Hike along the coastline, allowing waves to lap at your feet, and keep watch for dolphins playing offshore. The island also features several woodland trails.
The 3.2-mile Life of the Dunes loop trail starts in the shade of a maritime forest before emerging onto sandy dunes dotted with beach grass. The easy 1.5-mile Bivalve Trail meanders through shady oak groves.
With both coastal and woodland trails to discover, Assateague Island offers a diverse hiking experience. Reward your efforts with a refreshing swim in the bay before pitching a tent to camp under the stars.
Let the rhythmic ocean waves lull you to sleep after a memorable day immersed in Assateague's natural splendor, conveniently accessed right in Maryland's backyard.
Trail Safety and Regulations Tips
When driving to Maryland's scenic trails, be extra cautious to ensure a safe and lawful experience –
Check Regulations in Advance
When driving to Maryland's scenic trails, be extra cautious to ensure a safe and lawful experience. Check trail regulations and operating hours in advance.
For example, sections of the C&O Canal National Historical Park close at certain hours. You don't want to end up illegally trespassing!
Ensure Your Vehicle is Trail-Ready
Make sure your vehicle is equipped for the terrain. Don't head down rough forest service roads in a low-clearance sedan. You'll likely get stuck and need to be towed out.
Carry Essential Tools and Spares
Carry essential spare parts and recovery tools. Run-ins with rocks and overgrowth are common. You don't want to be stranded miles from help without the right equipment.
Stay on Designated Trails
Stay on designated trails and roadways. Venturing into protected natural areas can bring hefty fines. For instance, if a driver leaves the marked trail in Green Ridge State Forest and gets hit with a $250 ticket.
Be Courteous and Communicate
Yield and communicate with other users. Failure to do so on narrow passages could lead to confrontations. It's easy for a cyclist to collide with a truck on a tight corner in Patapsco Valley State Park, and you, the driver, will be found responsible.
Obey All Signs and Warnings
Obey all posted signs and closure notices. Entering prohibited areas can mean hundreds in fines and even arrests. You don't want to end up with a criminal record over a closed trailhead!
By putting safety first and knowing the rules of the trail, you can steer clear of trouble and focus on the adventure ahead. Ensure your Maryland journey is memorable for all the right reasons!
Planning Your Off-Road Adventure
As a Jeep owner, I've learned a few key lessons when prepping for off-road adventures. Here are my top tips:
Start with the Right Rig
Upgrade for the Terrain
Installing all-terrain tires, lift kits, skid plates, and heavy-duty bumpers outfits your Jeep to handle rough trails. Upgrades provide ground clearance and protect vulnerable underbody components from obstacles.
Carry Essential Spares and Tools
A full toolkit and spare parts are necessities in case anything breaks miles from civilization. Stocking radiator hoses, belts, fluids, and suspension components can get you back safely.
Pick the Perfect Destination
Research terrain and difficulties
Studying topographic maps and trail forums provides insights into terrain challenges, trail conditions, and licensing requirements. This knowledge helps you select trails that match your skills.
Avoid Trespassing
Confirming routes don't cross onto private property prevents unintentional trespassing. Landowners often don't take kindly to unplanned visitors.
Conduct a Pre-Trip Inspection
Check Fluid Levels and Components
Thoroughly inspecting tires, suspension, drivetrain, and fluid levels pre-trip identifies any potential problems before getting remote. Fix issues ahead of time.
Confirm Gear Is Operational
Testing winches, jacks, traction boards, and off-road electronics pre-trip ensures they work properly when needed on the trail.
Prioritize Safety
Bring Communication Devices
Carrying satellite messengers and beacons provides SOS capabilities in the event of an emergency beyond cell range. They can summon life-saving help.
Drive Within Your Limits
Pushing past your abilities on difficult trails risks vehicle damage, injuries, and getting stranded. Know your limits and don't take unnecessary chances.
With the right prep and research, your rig can explore remote places safely! But don't forget to prioritize caution on the trail.
Safety Guidelines for Off-Road Adventures
Safety should be given utmost importance when venturing into off-road expeditions in Maryland. Abide by these principles to ensure a safe and delightful escapade—
Vehicle Preparation
Use a specialized off-road vehicle designed for rugged terrain, like ATVs, dirt bikes, or 4×4 trucks. Do not take standard road vehicles off-road.
Install heavy-duty suspension, all-terrain tires, skid plates, and other protective accessories.
Maintain brakes, tires, fluid levels, lights, and controls regularly. Carry repair kits and spares.
Pre-Ride Inspection
Check tire pressure, tread wear, and tightness of all bolts/fasteners.
Ensure proper fluid levels – engine oil, coolant, brake and transmission fluids.
Confirm lights, controls and safety gear are operational.
Secure cargo and inspect winch/recovery equipment.
Safe Riding Practices
Take an approved ATV or off-road driving safety course. Know how to navigate obstacles properly.
Obey all trail markings, closure notices and posted speed limits.
Avoid alcohol before or during riding. Remain alert and focused.
Ride only on designated trails. Stay within your skill level.
By taking the time to properly equip, inspect and familiarize yourself with your machine and the trails, you can enjoy Maryland's remote backcountry safely.
Overcoming Off-Road Challenges
Off-road adventures in Maryland can present various challenges that require preparation and skillful navigation. Here's how to overcome them:
Maryland offers diverse terrains like rocky trails, muddy paths, and steep inclines. Equip your vehicle with appropriate off-road tires, skid plates, and protective gear.
Attend off-road training clinics like those by Badlands Off-Road Adventures to gain essential skills for safe 4×4 driving.
Choose a suitable vehicle with 4WD capabilities and ground clearance.
Follow basic off-roading tips, such as maintaining a steady speed, avoiding sudden maneuvers, and using low gear when descending.
Master techniques like "spotting" (guidance from a spotter), tire placement, and understanding vehicle articulation for overcoming obstacles.
Be prepared for changing weather conditions. Check forecasts and pack essentials like rain gear, recovery equipment, and first aid.
Follow the principles of "Tread Lightly," respecting nature and minimizing impact on trails.
Go off-roading with a group. It enhances safety, enables assistance during challenges, and promotes learning from experienced drivers.
Use GPS devices, maps, and navigation apps to avoid getting lost in unfamiliar terrain.
Finding Off-Road Trails of Maryland
If you are seeking to discover off-road paths in Maryland, here are several pointers to aid you in locating trails nearby ­–
Web Resources
Online platforms such as the official website of the Maryland Department of Natural Resources dnr.maryland.gov furnish data regarding specified off-road vehicle paths. Verify legitimate sources that supply particulars about trials, limitations, and recommendations.
Local Off-Roading Clubs
Connect with local off-roading clubs or communities. They often have members familiar with the best trails in the area. Websites like off-roading pro provide lists of top off-road trails.
Automotive Dealerships
Some dealerships, like land rover annapolis, may have information on nearby off-roading trails. They might also offer insights into trail difficulty levels and seasonal accessibility.
Trail Finder Websites
Platforms like trails offroad offer comprehensive databases of 4×4, ATV, and off-road trails. You can search for trails based on location, difficulty, and vehicle type.
Mobile Apps
Use mobile apps specializing in outdoor activities and trail tracking. They can help you discover and navigate off-road trails effectively.
Safety and trail regulations must always be of utmost importance. Examining the prevailing trail circumstances and guaranteeing that your vehicle is appropriately equipped to tackle the terrain of your selected trail is essential.
It is critical to remember that trial circumstances and availability may differ. Therefore, verifying all information before commencing your expedition is recommended.
Final Words
In the heart of Maryland's diverse landscapes, Off-Road Trails in Maryland beckon adventure enthusiasts. From the Appalachian Mountains to the Chesapeake Bay, these trails promise thrilling challenges and awe-inspiring beauty.
You can navigate rocky terrains and muddy paths while preserving the environment by equipping yourself with skills, knowledge, and proper gear. Embrace the call of Off-Road Trails in Maryland, where each journey becomes an unforgettable exploration of nature's wonders.