4Runner 6112 Vs 5100 – Which One Performs Better?
If you are looking for something to improve the performance of your Toyota 4Runner, you can easily find many options in the market. However, when it comes to better performance, reliability, and cost-effectiveness, the 6112 and 5100 shock absorbers are two of the most popular choices. But if you are comparing 4Runner 6112 vs 5100 shocks, what are the main differences?
The 4Runner 6112 shock absorber is expensive but more robust, offers adjustability, has a larger diameter body, and offers excellent ride quality regardless of the road condition. On the other hand, the 5100 is more budget-friendly but still offers a better riding experience with its versatile construction and adjustable damping.
While both shock absorbers can do a damn good job at improving 4Runner's performance, it is natural to be curious to learn more about their differences and similarities. That is why I have discussed some of the most important information regarding these shock absorbers. So feel free to read until the end.
4Runner 6112 Vs 5100: Comparison Table
Not really up for reading the full article? Then this comparison table will help you understand the similarities and differences between 6112 and 5100 shock absorbers.
4Runner 6112 Vs 5100: Detail Comparison
The 4Runner 6112 and 5100 shock absorbers have been popular for many reasons. However, if you want to get one of them for your 4Runner, it is best to compare them to know which one will work better for you.
So let's find out!
Material 
The construction material of the shock absorbers plays a vital role in their performance. And in this case, both 6112 and 5100 have high-quality and durable materials.
While the 6112 is made of high-grade aluminum alloy, the 5100 is made of steel. Since aluminum is lighter than steel, it offers more control and is more durable.
The pistons' rods of 6112 are made of chrome-plated steel, and that of 5100 is made of stainless steel. The advantage of stainless steel over chrome-plated steel is that stainless steel is more resistant to corrosion. 
But the good thing is both shock absorbers come with zinc plated finish, and it works as an extra layer of protection against corrosion. This type of finish also ensures the material remains protected in harsh weather conditions.
Size/Diameter
The size difference in both shock absorbers greatly impacts their performances. The 6112 has a 2.65" body and a 60 mm piston with an 18 mm rod. And the 5100 has a body of 1.95" and a 46 mm piston with a 14 mm rod.
The larger body and diameter of the 6112 shock absorber allow it to store more fluid. It also moves the fluid more efficiently to the piston, ensuring better-damping force. Moreover, because of its larger size, this shock absorber dissipates heat and offers more consistency even during long hours of the ride.
But the 5100, with its smaller size, cannot dissipate heat as well as the 6112. That is why, while it is still suitable for many off-road rides, it always ends up with certain limitations.
Adjustability/Lifting Capacity
Being able to adjust the shock absorber is beneficial in many ways, including ensuring the vehicle performs well regardless of the road condition. And in this case, the 6122 shock absorber comes with an adjustable feature that lifts about 2.5 inches and has 5 height settings.
And the 5100 one has a maximum of 2 inches of lift with 3 height settings. That means this one has some limitations compared to the 6112 when it comes to adjustability.
Springs
The spring design and features play very important roles in the shock absorber's performance. Having a better spring design is essential for a vehicle's improved performance and consistency and smoother riding experience.
As for 6112, it has a monotube and coilover spring design, which is effective for more precious tuning and increases durability. And the 5100 has a coil spring that is installed separately. But it also offers a flexible ride.
Soft/Stiffness
The 6112 shock absorber is constructed in a way to work with Coilover, which is why it is made slightly stiffer. This feature ensures a firmer ride. And that is why the 6112 is more suitable for heavy off-road use.
However, unlike 6112, the 5100 is softer because it works only with an aftermarket spring coil. And it is also beneficial for a smoother ride on bumpy terrains.
Off-Road Performance
When it comes to performance, both 6112 and 5100 are pretty exceptional. However, one of them is just better than another. With a 60 mm piston, the 6110 shock absorber has to put less effort than the 5100, which has a 46 mm piston.
Moreover, the damping surface area is around 25% larger in the 6112. As a result, the 6112 model ensures better control and less bumpy ride off-road.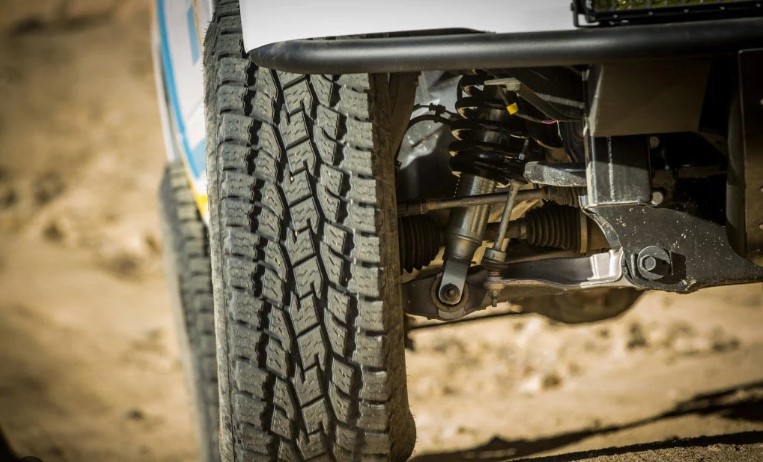 Cost
The cost of these shock absorbers is what makes one of the most significant differences. The price of the 6112 shock absorber is quite high compared to the 5100. The exact price of both can vary depending on several factors, such as location, retailer, special offers or discounts, etc. Nevertheless, the 6112 is likely to cost around $540-$950, while the 5100 may cost around $450-$475, or maybe more or less. Click here to delve deeper into the differences and similarities between the Prado and 4Runner
Warranty
The 4Runner 6112 and 5100 from Bilstein come with a limited lifetime warranty. The warranty usually covers various defects and damages. They offer repair for manufacturer and shipping defects but not for wear or tear that happens in use.
If you purchase the shock absorbers from Bilstein directly, you can avail of their 30-day return policy, which is applied only to the unused products in their original packaging. And the brand charges 15% for the product as a restocking fee. And the customer has to carry the return shipping cost.
Pros And Cons Of 6112
Here are the pros and cons of the 4Runner 6112 shock absorber-
Pros
High-Quality Construction: The 6112's monotube design and high-quality steel construction improve ride quality.
Better Off-Road Performance: The shock's overall design ensures more comfortable and stable off-road performance. 
Adjustable: The capacity to adjust the shock allows users to adjust according to their desired riding experience.
Easy To Install: Since the shock is a direct replacement for the factory-built shock in the 4Runner, making it is more straightforward to install it.
More Reliable: With all high-quality material, a larger body, and an improved design, the 6112 is surely more reliable.
Cons
Stiffer/Firmer Ride: The 6112 shock absorber offers a firmer or stiffer ride, which might not be suitable or preferred by all riders.
More Expensive: Another drawback of this heavy-duty shock absorber is that it is quite expensive.
Requires Aftermarket Coilover: The shock requires aftermarket Coilover to work, which means if you don't have it already, it will add more expense.
Pros And Cons Of 5100
Here are the pros and cons of the 4Runner 5100 shock absorber-
Pros
Improves Ride: Not exactly similar to the 6112, but the 5100 shock absorber still offers a better, improved, and more comfortable ride.
Adjustable: This shock absorber is also adjustable, making it easier to ensure a more comfortable ride.
Easy To Install: Installing the 5100 shock absorber is pretty straightforward. So it should not be very time-consuming.
Cost-Effective: One of the best things about the 5100 is that it is comparatively cost-effective.
Cons
Limited Adjustability: While the 5100 is adjustable, it still has some limitations.
Not Suitable For Heavy Off-Road Drive: Even though the shock absorber performs well off-road, it does not perform great when you are using it for heavy rides.
Frequently Asked Questions
Q. Is 6112 better than 5100?
The 5100 does perform well off-road and is budget-friendly. However, in most cases, the 6112 is known for performing better than the 5100 shock absorber.
Q. How much lift does the 6112 offer?
Using the tallest height setting, the 6112 can offer up to a 2.5" lift.
Q. How long do the 6112 and 5100 last?
The durability of the shocks depends on several factors, such as road conditions, weather conditions, driving frequency, maintenance, etc. Regardless of all that, you can expect them to last 3-5 years or up to 50,000-100,000 miles.
Q. Do 6112 and 5100 come with a warranty?
Both 6112 and 5100 come with a limited lifetime warranty. And the company offers free exchange against manufacturer defects. However, if there are damages or defects on the customer's end, they have different policies.
Final Words
Comparing both 4Runner 6112 vs 5100 shows how excellent both of these shock absorbers are. Both of them are eligible for more driving stability, excellent control, smoother ride, and better performance off-road.
Meanwhile, the 6112 is known for better performance with its larger body, piston, rod size, and installation feature. This one is more suitable for heavy load bearing but is quite expensive. On the other hand, the 5100 has a smaller size but performs nearly as well as the other one, but it is a more affordable option.
So which one performs better? Well, since that depends on the vehicle type, the road, and various other situations, we will leave it up to you to decide.
Also Read:
5.3 Vs 6.0 LS Engines: What Are The Similarities Or Differences?