Toyota 4Runner Vs Prado: Which One Should You Buy?
Among all types of vehicles, SUVs are one of the most popular ones. Not only do they offer enough space for a mid-size or large family, but they are also the best choices if you are looking for enough cargo space for carrying large items or towing things. And for SUV enthusiasts, the Toyota 4Runner and Prado are 2 ideal choices,
These are also popular and suitable if you are looking for mid-size SUVs. But when it comes to putting 4Runner vs Prado, which one is likely to do the best job?
Both Toyota 4Runner and Prado are high-performers when it comes to on and off-road driving. The 4Runner has classy features, a sliding rear cargo deck, and a rooftop cargo basket. On the other hand, the Prado is more luxurious and has advanced features with a stunning interior. So naturally, Prado is more expensive than 4Runner.
With all their good qualities, it is challenging to go for just one. So why not compare both these vehicles so that you can understand which one is likely to work out more for you? I urge you to go ahead and read the entire article to learn more.
4Runner Vs Prado: Comparison Table 
Here is a comparison table that will help you learn the similarities and differences between the two SUVs.
| | | |
| --- | --- | --- |
| Features | 4Runner | Prado |
| Type/Outlook | Classic SUV | Luxurious SUV |
| Size | Mid-size SUV | Full-size SUV |
| Engine | 4.0L V6 / 4.7L V8 | 2.7L 4-cyl / 4.0L V6 |
| Torque | 278-329 lb/ft. | 246-480 lb/ft. |
| Horsepower | 270-310 hp | 163-271 hp |
| Towing Capacity (Max) | 5,000 lbs | 7,700 lbs |
| Seating Capacity | 5-7 (depends on model) | 5-7 (depends on model) |
| Transmission | 5-speed auto/6-speed auto | 6-speed auto/5-speed manual |
| Cargo Space | 47.2-88.7 cubic feet | 11.3-96.4 cubic feet |
| Curb Weight (Avr) | 4,400-4,750 lbs | 4,750-5,250 lbs |
| Price | Comparatively less expensive | Usually more expensive |
| Availability | Limited  | Global |
4Runner Vs Prado: Detailed Comparison
When it comes to the 4Runner and Prado, there are some significant differences despite their similar look. So here is a more detailed comparison regarding some of the significant features of these two vehicles.
Appearance
Do both 4Runner and Prado look the same to you? Well, actually, they don't if you know cars. They are both mid-size SUVs with modern and stylish construction with high-end materials. However, while 4Runner has a classy Toyota look and with excellent interior, Prado has a slightly more luxurious style with a more stylish interior.
Engine Options 
The engine for these Toyota SUVs depends on the vehicle model and where you purchase it from. The 4Runner has limited options, such as a 4.0-liter V6 engine with 278 lb/ft. torque and 270 horsepower. Some older models may have a 4.7-liter V8 engine with slightly more torque but less horsepower.
On the other hand, Prado comes with several engine options. A 2.8-liter and 3.0-liter four-cylinder turbo diesel engine with 163 to 177 horsepower and 280 to 332 lb/ft. torque. And there is the 4.0-liter V6 gasoline engine with 270 horsepower and 280 lb/ft. torque.
Off-Road Performance
Both 4Runner and Prado are designed to offer their best when it comes to off-road performance. The 4Runner has a 4-wheel drive with a multi-terrain selection system to allow users to adjust the driving mode according to the terrain conditions. Some 4Runner models are designed especially for driving on various terrains smoothly.
And the Prado is also a 4-wheel drive SUV with some special features. It has crawl control, anti-lock, hill descent control, etc., which ultimately makes its off-road performance even better.
Cargo Space And Seating Capacity
The Toyota 4Runner and Prado have a notable difference when it comes to seating capacity. The 4Runner comes with 5 to 7 seating capacities depending on its trim level. The front seats are adjustable, and with the rear seats folded down, you can get a massive cargo space of 88.7 cubic feet.
On the other hand, Prado has slightly limited cargo space. But you can slide the 2nd-row seats and fold down the 3rd-row ones to add more cargo space.
Comfort
With a large cargo space, the 4Runner does offer the riders enough comfort because of its larger interior space and adjustable front-row seats. However, Prado, being a luxurious model, offers more riding comfort with its heated and ventilated seats, leather upholstery, and power-adjustable driver's seat.
Towing Capacity
Both 4Runner and Prado have an impressive towing capacity, allowing users to transport various types and sizes of items or cargo without much trouble. Depending on the vehicle model and engine type, the capacity can vary.
Nevertheless, with a V6 engine, the 4Runner can tow up to 5,000 lbs. And older 4Runner models with a V8 engine can go more than 7,000 lbs. As for Prado, depending on the engine type, the towing capacity can be a minimum of 5,500 lbs and a maximum of 7,000 lbs.
Cost
The cost for both vehicles depends on which model you choose, its trim level, market, additional features, etc. However, the 4Runner is a cost-effective option between the two. The reason Prado costs more is because of its luxurious design and other additional features.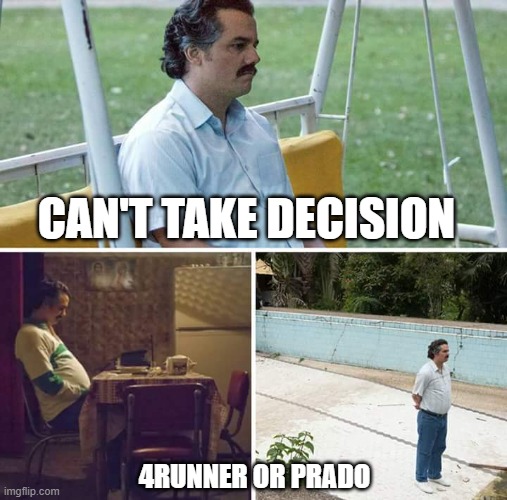 Pros And Cons Of Toyota 4Runner
Here are some of the notable pros and cons of the Toyota 4Runner-
Pluses
Optimized Off-Road Performance: With high ground clearance, 4-wheel drive, and skid plates, the 4Runner is an excellent off-road performer.
All-Weather Design: The 4Runner comes with mudguards on all its wheels, which keeps the wheels clean. On top of that, the heated outer mirrors prevent frost or ice from taking over. 
Safety Technology: This SUV comes with various safety features, such as the pre-collision system and radar cruise-control slams to avoid collision risks. 
Excellent Towing Capacity: Its 5,000 lbs towing capacity is pretty good for towing various types of loads.
Reliable Brand: Toyota has been a reliable brand for many decades. So just like any other vehicle from the brand, the 4Runner is also reliable for various uses.
Comparatively Affordable Option: If you are comparing the 4Runner and Prado, this one is a more affordable option.
Minuses
Outdated Features: Many of the 4Runner features are pretty outdated compared to the newest models.
Less Fuel Economy: With its bigger size and heavy weight, the 4Runner does not seem to have a good fuel economy.
Pros And Cons Of Toyota Prado
Here are some of the notable pros and cons of the Toyota Prado-
Pluses
Good Off-Road Performance: Uneven, bumpy, or muddy off-road terrains, the Toyota Prado can withstand pretty much everything.
More Towing Capacity: Compared to 4Runner, Prado has a better towing capacity of a maximum of 7,700 lbs.
Stylish Appearance: The Prado is a luxury SUV with a more stylish appearance and an eye-catching interior.
Safety Features: It has several safety features, such as anti-lock, downhill assist, hill-start assist, airbags, brake and traction control, etc.
Minuses
More Expensive: The biggest drawback of this stylish and luxury SUV is its expensive cost.
Limited 3rd Row Space: The 3rd row of the vehicle is not very spacious, making it uncomfortable for long rides.
Last Two Cents
SUVs are great when it comes to using a single vehicle for multiple purposes. And as for Toyota 4Runner and Prado, they are both versatile and suitable for different uses.
As you can see in this 4Runner vs Prado comparison article, they have some of the best features suitable for off- and on-road driving. However, the 4Runner is slightly traditional, whereas Prado is more stylish and luxurious. It has multiple engine options but is quite expensive compared to 4Runner.
It is best if I leave it up to you to decide which vehicle will work best for your need and preference. Make sure to check with a professional to get more in-depth knowledge about the vehicles and their different models.
Frequently Asked Questions
Q. What makes the Toyota 4Runner and Prado different?
While there aren't many noticeable differences between the 4Runner and Prado, they do have some differences in their internal features and settings. The 4Runner is an optimized vehicle that performs very well in any terrain and offers rugged performance. On the other hand, Prado comes with a higher towing capacity with a luxurious appearance.
Q. Are 4runner and Prado reliable vehicles?
Manufactured by Toyota, both 4Runner and Prado are high-quality built SUVs. They are made to perform under various road and weather conditions and last a long time.
Q. How long do they last?
The durability of the vehicle depends on various important factors, such as how often they are used, the kind of road or weather conditions they are used in, how well you maintain them, etc. Nevertheless, you can expect the 4Runner and Prado to last more than 200,000 miles.
Q. How should I maintain 4Runner and Prado to increase durability?
You can maintain the Toyota 4Runner and Prado the same way as any other vehicle. Make sure to do regular oil changes, brake inspections, tire rotations, repair and replace faulty parts, etc. 
Also Read: