Jeep App Vs Uconnect App – Which One Is More Convenient?
Over the years, Jeep has been allowing its users to access various application systems to improve the experience of Jeep owners. Depending on the type of app, you can do various things, such as remote-lock and unlock, track the vehicle location, stay connected to the Jeep community, keep track of your vehicle's maintenance, get better navigation, make hand-free calls, etc.
And two such well-known applications are the Jeep app and the Uconnect app. But if you are comparing the Jeep app vs Uconnect, what are their differences?
The Jeep app is a mobile application f that allows users to stay updated with the vehicle's maintenance history, schedule appointments, access remote locking unlocking, etc. And Uconnect is more like an in-car infotainment system to use for navigation, hand-free texts and calls, entertainment, and more. While the Jeep app is free, Uconnect comes with subscription plans.
That was just a brief on what these apps can do. If you want to learn more about them and decide which one to get, I suggest you read the article to find out.
What Is The Jeep App?
Jeep app is a mobile application launched in 2017 that is compatible with Android and IOS. This app offers various convenient features for Jeep users. The owner of the vehicle can check out the vehicle's user manual, lock and unlock the Jeep remotely, check fuel economy, make appointments for maintenance, or keep track of it, etc.
The Jeep app is free to download from Google Play Store and App Store. It is available for all Jeep models, and you will need an internet connection to use the app. The app is updated regularly to improve its features.
What Is The Uconnect App?
Introduced in 2003, Uconnect is an in-vehicle infotainment system that is installed in the car's dashboard and used for various purposes. This app is compatible with various vehicles, and it features a touch-screen display and requires Bluetooth connectivity.
You can use the app for entertainment, navigation, hand-free texts and calls, traffic updates, weather reports, etc. Other than the buttons on the dashboard, you can use this app using voice commands. And the software should be kept updated through the vehicle dealership.
Jeep App Vs Uconnect App: Comparison Table
Features
Jeep App
Uconnect App
App Type
Mobile Application
In-car infotainment system
Compatibility
Android and IOS
Varies by vehicle model
Available In
Google Play Store, Apple App Store
Needs to be equipped in the vehicle's system
Installation Location
Mobile device
In vehicle dashboard
Used For
Remote locking and unlocking

Finding dealership

Finding the vehicle user's manual

Keep track of maintenance

Scheduling appointments

Engage to Jeep community
For navigation

Making and-free texts and calls

Entertainment

Climate control

Traffic updates
Available For
All Jeep vehicle models
Not for all Jeep models
User Interface
Mobile app screen
Touch-screen display on the dashboard
Connectivity
Internet connection
Mobile data, Wi-Fi, Bluetooth
Language
Supports multiple languages
Supports multiple languages
Remote Use
Yes
No
Update Process
Can be done from the Play Store or App Store
Through vehicle dealership
Cost
Free
May require subscriptions for some models
Jeep App Vs Uconnect App: Key Differences
As you can tell from the comparison table above, the Jeep app and Uconnect app have significant differences even though they are both apps for vehicles. Here is a more detailed discussion to help you understand the differences better and decide which one will be better for you.
Type Of Application
The most significant difference between these two apps is their types. The Jeep app is made for mobile devices. You can download and install the app on your Android or IOS smartphone from Google Play Store or Apple App Store.
On the other hand, Uconnect is an in-vehicle-installed system that is part of the vehicle's system. Unlike the Jeep app, which works for all Jeep vehicles, Uconnect works only on some Jeep models.
Accessibility
The accessibility of the apps is whether you can remotely access them or not. And this is also a notable difference.
Since the Jeep app is a mobile application, you can use it without requiring it to be near or inside your car. But, as Uconnect is an in-vehicle system, you need to be in your vehicle to access or use it.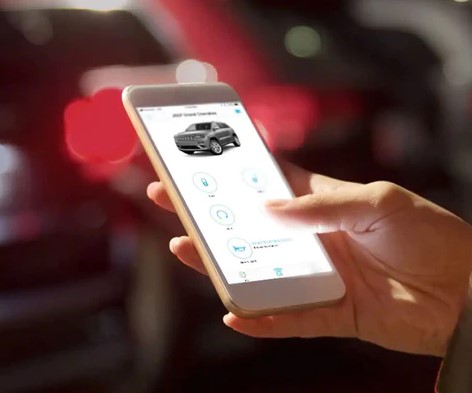 Connectivity And Update
You will need an internet connection to connect the Jeep app to your mobile and vehicle. As for Uconnect, you can use it using cellular data, Wi-Fi, and Bluetooth connection.
And while the Jeep app can be updated from the download stores to improve its performance, Uconnect can only be updated through your Jeep vehicle's dealership.
Availability
The availability of the apps often makes a difference when it comes to choosing them. The Jeep app is more accessible, and you can easily download it from your device's app store. So any Android and IOS user can download it.
However, since Uconnect is a part of the vehicle's system, it cannot be accessed if you want. Your vehicle must be compatible with the system so that it can be installed.
Usage Purpose 
So, what are the fuses about? What are these apps used for?
The Jeep app is used for doing things that can be done remotely, such as finding your vehicle's user manual, finding dealership locations, keeping track of your Jeep's maintenance or scheduling appointments, keeping up with service history, service reminders, etc. You can also lock and unlock the vehicle remotely using this app.
On the other hand, Uconnect works in a very different way. This app is mainly used for better navigation, entertainment, making free hand texts and calls, Android Auto integration, Apple CarPlay, controlling the vehicle's climate or audio, keeping traffic updates, etc. You can control the app using dashboard buttons or voice commands.
Pros And Cons Of Jeep App
Here are the pros and cons of the Jeep app.
Pros
Mobile app and easy to operate
Provides better access to information regarding car health
Helps make appointments for vehicle service more easily
Free access 
Compatible with all Jeep models
Cons
Requires an internet connection to work
Access is limited to mobile devices only
Pros And Cons Uconnect App
Here are the pros and cons of the Uconnect app.
Pros
Easy to operate
Adds an upgraded look to the vehicle 
Offers a wide range of features 
Allows to make hand-free uses
Ensures better navigation 
Cons
Not entirely free
Upgrading is expensive 
Does not work on all Jeep models
Frequently Asked Question
Q. Are the Jeep app and Uconnect free?
You can download the Jeep app for free from your device's store. However, Uconnect's installation varies depending on the Jeep model, and it may require subscription or purchases based on features and vehicle models.
Q. Can I use both the Jeep app and Uconnect at once?
Of course! You can use both apps at the same time without many issues. However, you must ensure that you are not mixing up their features and systems by using both at the same time.
Q. Can I use Uconnect using voice commands? 
Yes, Uconnect allows vehicle owners to use voice commands for better and easier access. It is also safe for the person driving the Jeep.
Final Words
Modern tools and apps have made it easier to maintain cars and use them more conveniently. And in this regard, both the Jeep app and the Uconnect app are equally excellent and well-performers.
And the best part is that both apps support multiple languages for different users. You can also use them safely as they are password protected and require login for access.
But when it comes to the Jeep app vs Uconnect, making a final decision is challenging. So why not look at the comparisons once more and see which one looks more convenient and useful based on your needs and requirements?