Jeep Wrangler Sahara Vs Rubicon: Which One Should You Choose?
Jeep Sahara and Rubicon are some of the best products in the market. But while buying a Jeep, you need to focus on your priorities first. 
So, Jeep Wrangler Sahara vs Rubicon, which one is best for you? The Jeep Sahara is good for on-road and light-duty off-road use. It has a 3.21 axle ratio, a non-vented hood, and an 18-inch wheel suitable for on-road use. On the other hand, the Jeep Rubicon is good for heavy-duty off-road use with a 4.10 axle ratio, 17-inch wheel, and dual-vented hood.
This is only a superficial comparison of the whole article. You can get many more detailed differences in this article. Stay with this article to get more information.
Jeep Wrangler Sahara Vs Rubicon: Short Comparison
Jeep Wrangler Sahara and Rubicon have many similarities. A few dissimilarities are present that can make them different from each other. Have a look at the given table to know the main differences.
| | | |
| --- | --- | --- |
| Traits | Sahara | Rubicon |
| Suitable Place For Driving | Both for On-Road and Off-road | Extreme Off-road |
| Special Features | Body color fender flares, more refined interior, more comfort | Heavy duty front and rear axle, electronic locking front and rear differentials, electronic sway bar |
| Axle Ratio | 3.21 Axle Ratio | 4.10 Axle Ratio |
| Door | Only 4-door available | Both 2-door and 4-door available |
| Hood Vents | Non-vented Hood | Dual Vented Hood |
| Engine | 2.0L Engine | 3.6L Engine |
| Wheel | 18 inches | 17 inches |
| Price | Comparatively less expensive | More expensive |
Jeep Wrangler Sahara Vs Rubicon: Detailed Comparison
You can get a better idea of the Sahara and vs Rubicon below:
Suitable Place For Driving
Before buying a jeep, you have to think about your priority. You can buy a jeep for daily use or extreme off-road driving or a jeep suitable for both. Sahara and Jeep Rubicon serve different sectors.
Jeep Wrangler Sahara is designed in a way that it can go both on-road and off-road. You can use Jeep Sahara on a daily basis. But if your priority is to drive extremely off-road, Sahara is not the best option.
On the other hand, the Jeep Rubicon is suitable for extreme off-road use. Higher ground clearance, approach departure, and break-over angle make it suitable for off-road use. Also, let's compare jeep 3.8 vs 3.6
Special Features
Jeep Shahara is designed considering the comfort of the drivers. It is gifted with body-color fender flares and a more refined interior.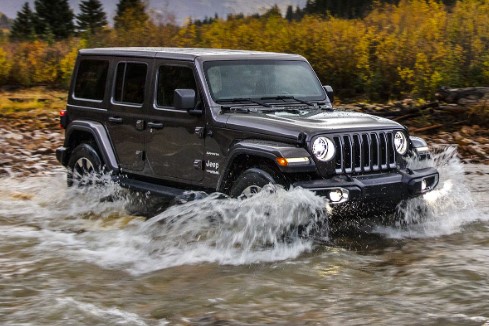 On the other hand, Rubicon has more robust suspense than Sahara. It is designed with a heavy-duty front and rear axle. Also, it is featured with electronic locking front and rear differentials and an electronic sway bar. All of these things make the Rubicon suitable for driving on rocky roads.
Axle Ratio
The higher the axle ratio is, the more the vehicle can pull heavy loads. The gear ratio is proportionate to the bearing load capacity.
The Sahara is designed with a 3.21 axle ratio and the Rubicon is 4.10. Jeep Rubicon is more capable if you want a heavy load-bearing Jeep.
Door
A 4-door jeep can accommodate 5 people, and 2 doors can accommodate 4 people.
Jeep Rubicon gives customers two options. It has both the 4-door and 2-door models. Customers get more options to buy a Jeep Rubicon according to their priority.
But Jeep Sahara is featured with only 4-door models. Jeep Sahara disappoints customers who want to buy a 2-door Sahara.
Engine
A 2.0 L Sahara engine can produce 270 HP at 5,250 RPM and 290 TQ at 3,000 RPM. Jeep Rubicon 3.6 L engine can produce 285 HP at 6,400 RPM and 260 TQ at 5,800 RPM.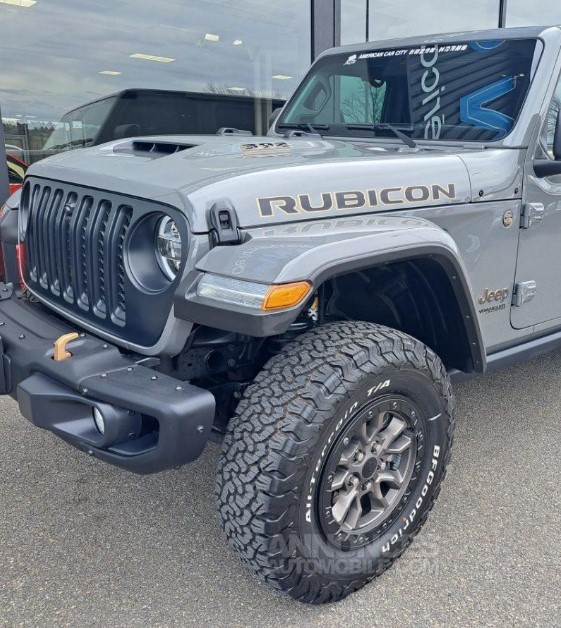 The Jeep Sahara engine produces higher torque than the Rubicon. That means it can accelerate better than the Rubicon. You can have a quick and fast driving experience with Sahara. Also, engines with high torque increase comfort levels.
Wheel
Sahara is featured with 18-inch wheels and they are more comfortable because of more sidewalls. But it is not good for off-roading as it has a large tread block. It decreases the comfort level off-road.
Compared to 18 inches, a 17-inch wheel is more comfortable off-road. The Rubicon has got 17-inch wheels. It acts as a shock absorber and less tread block balances the comfort level.
Hood Vents
Vents help to lower the underhood temperature. Sahara is a non-vented jeep. So, you might face overheating issues. The non-vented hood pushes back the hot air back to the parts. But if you live in a cold country, you might never face overheating issues with your jeep.
On Jeep Rubicon, two vents are present in the hood. So hot air can easily pass through the vent to the atmosphere. Here, almost no risk of the overheating issue remains.
Price
Jeep Shahara is less expensive than the Jeep Rubicon. Jeep Sahara's price starts at $41,645. The average price of most of the Jeep Sahara is $43,295.
On the other hand, most of the Jeep Rubicon is expensive. Jeep Rubicon's price starts at $45,195. On average, most of the models are $46,420.
FAQs
These are some commonly asked questions by people about Jeep Sahara and Rubicon.
Q: What are the disadvantages of Rubicon?
The main disadvantage of Rubicon is its low fuel economy. The cargo space is limited and the passenger door is narrow in this jeep. Also, it produces noise.
Q: Are Jeep Sahara and Rubicon safe?
Both Jeep Sahara and Rubicon are safe. They are designed with similar safety features. More than 75 safety features are included in these two jeeps.
Q: Can you turn a Sahara into a Rubicon?
Yes, you can turn a Sahara into a Rubicon. But it can not be turned properly into a Rubicon. You can replace some parts of the Sahara with Rubicon. Many parts are similar as well.
Conclusion
Jeep Wrangler has made Sahara for mixed-use. You can comfortably drive it on-road. But if you want to buy a jeep only for heavy off-road driving, Rubicon can meet all your demands. But you cannot drive it on-road comfortably because it will perform less and will produce noise.
However, its higher axle ratio and 17-inch wheel can give you a safe and good off-road experience. On the other hand, the Sahara engine can produce more torque, which gives a quick and noise-free journey on-road. But while buying one, the Sahara can save some money as it is affordable.