Rain X Vs Michelin Wiper Blades: The Ultimate Showdown
If you're hunting for new wiper blades for your car, you must be fence-sitting between Rain-X vs Michelin. And that's pretty obvious because both brands have a reputation for quality and performance. 
So, Rain X vs. Michelin wiper blades, which one is better? Rain-X wipers have an aerodynamic design and graphite rubber construction, while Michelin has a SmartFlex design with silicone rubber blades. You can install both of them easily, but Michelin can be more noisy and expensive.
Moreover, we'll look at factors like noise, durability, weather performance, and price to help you make the best decision for your needs. So buckle up, and let's dive into it!
A Quick Table: Rain X vs Michelin Wiper Blades
If you're pressed for time, you can take a glimpse at our quick table to get an idea of the two wiper blades briefly.
| | | |
| --- | --- | --- |
| Feature | Rain-X | Michelin |
| Blade Design | Patented beam blades with aerodynamic design | Traditional silicone rubber blades with a longer profile |
| Weather Effect | Rubber layer with tension spring arcing tech for safety in any season | Patented SmartFlex design for better performance in any weather, including snow |
| Installation | Universal adapter with EZ Lok connector and QR code for installation videos | Patented EZ Lok Connector system for secure installation in minutes |
| Durability | Aerodynamic spoiler and longer-lasting graphite blend rubber compound | Composite structure with a flexible steel spine |
| Price | Varies based on size and model typically between $13.85 up to $18.36 | Generally, they are pricier than Rain-X blades with a range of $24.99 to $34.86 |
| Return Policy | Provides return policy but requires to show buying proof. | Doesn't provide a return policy. |
Features of Rain-X Wiper Blades
Now, we'll explore each vital feature of Rain-X blades to give you a comprehensive idea.
Design of Blade
If you're looking for wiper blades with a superior design, you might want to check out Rain-X. Their beam blades are patented and have an aerodynamic design considering your car's airflow. 
They reduce drag while performing, giving you better visual clarity, which is always a plus when driving.
Noise
You might not think about it, but windshield wipers can be really loud! 
However, the Rain-X wiper blades claim to be designed to reduce noise while still giving you a great wipe. They have a special graphite-coated rubber blade that makes the wiping smoother and quieter.
However, when the blades changed direction, we noticed an annoying slap sound a few times. 
Effect of Weather
You want wiper blades that can function in any condition for your car. Regardless of the season, Rain-X provides excellent performance and safety thanks to a specifically created rubber layer.
Their unique blade shape incorporates rubberized ribs and sides to provide a smooth contact area with the windshield. 
Plus, their tension spring boasts arcing technique that exerts maximum pressure on the glass. That way, you'll see a streak-free, crystal-clear picture.
Installation
Installing Rain-X wiper blades is a breeze! Their universal adapter means they fit most vehicles, and the EZ Lok connector makes installation a snap. 
You don't have to be a pro to do it yourself. Plus, Rain-X even provides installation videos through a QR code on the back of the package.
Durability
Rain-X wiper blades are extremely durable, thanks to an aerodynamic spoiler that keeps them in position. They're also made from a premium graphite-blend rubber composition. 
So, you can rest assured that they won't lose their form and will precisely clear your windshield.
Price
Rain-X got wiper blades that won't break the bank. They got different prices, starting from $13.85 up to $18.36. We prefer Rain-X Latitude as they got sizes from 14-inch up to 28-inch, with the cheapest one at only $13.85. Explore, Ford that looks like jeep
Features of Michelin Wiper Blades
Well, it's time to dive into the Michelin wiper blades. Let's begin.
Design of Blade
Michelin wipers has normal silicone rubber blades that are longer than usual, providing better coverage for your windshield. But this also means more wind drag on the blades, which can be a bit of a bummer. Nonetheless, they still offer excellent performance.
Noise
Just a warning, Michelin wiper blades might be somewhat noisy compared to Rain-X wiper blades. A squeak may be audible as they change direction and begin to descend again. 
To temporarily silence the noise, try lubricating the glass with windshield cleaner.
Effect of Weather
Regardless of the weather, these blades' unique SmartFlex framework helps them mold to the contours of your windshield for improved performance. 
Also, the blades have an adjustable shape that enables them to stay in touch with your windshield, even in snowy or rainy conditions. It indicates that even in severe weather, you will have clear vision.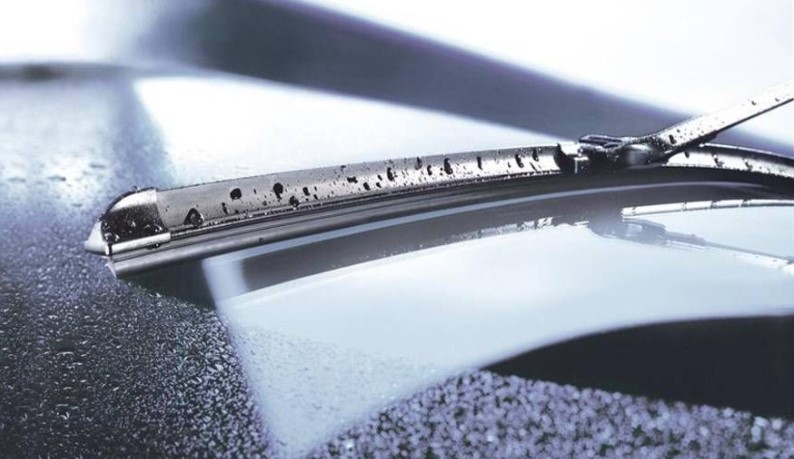 Installation
Installing Michelin Stealth Ultra Wiper Blades is a breeze thanks to their Patented EZ Lok Connector system. These blades are designed to be compatible with a wide range of vehicles, so you won't have to worry about compatibility issues. 
Just make sure to check what type of adapter you need before installing it, and you'll be good to go! And if you ever need to remove or replace the blades, it's just as easy.
Durability
When it comes to wiper blades, durability is key. And Michelin ensures resilience with their composite structure and flexible steel spine. This design allows the blades to flex with the wind while remaining stable. 
So, no matter how tough the weather gets, you can count on Michelin blades to keep your windshield clear and clean.
Price
In terms of price, we found that Michelin blades are a bit pricey.
For example, if you're eyeing Michelin's mid-range Hybrid Blade, you're looking at spending roughly $20.99 per unit. Meanwhile, a pair of their Stealth Ultra Blades can set you back around $29.99 in most stores.
Of course, price shouldn't be your only consideration when picking out wiper blades. 
Rain-X Vs Michelin Wiper Blades: Which One Comes Out on Top?
Look, we genuinely get that deciding between Rain-X and Michelin is a tough call. But here's what we found: Rain-X blades are quieter and tougher than Michelin's, thanks to their graphite composition and snazzy design. On the other hand, Michelin's blades do offer a smoother wiping experience.
Both of them coat their blades with UV protection, so they'll last longer in the sun. But if you're trying to save some cash, Rain-X blades are generally cheaper than Michelin's.
Overall, we propose Rain-X for its longevity, constant performance in extreme weather, and cost. 
You can see this video:
Final Words
After comparing Rain X vs Michelin wiper blades, we must say Rain-X comes out on top. Why? Well, their aerodynamic design, graphite rubber construction, and universal adapter make them practical and cost-effective. Plus, they're affordable and not as noisy as Michelin. 
On the other hand, Michelin wiper blades have a SmartFlex design and flexible steel spine, making them more durable but at a higher price. Overall, if you're looking for value for money, go for Rain-X, and you won't be disappointed!