The FJ Cruiser- Toyota That Looks Like Jeep!
Toyota has been a popular name among car enthusiasts and general consumers alike since the mid-'90s. Over the years, the company brought many great and varied designs, some of which were original, and some were influenced.
But is there a Toyota that looks like a Jeep? Well, yes, in pursuance of those innovative designs, Toyota first gave us the FJ Cruiser back in 2006. It has a boxy shape and that trademark flare of a Jeep Wrangler.
Here, we're about to put a side-by-side comparison of these two kingpins of the car industry. As the FJ Cruiser is inspired by the Wrangler. So, tag along!
Basic Specs Comparison At a Glance
Look at some of the similarities between the Toyota FJ Cruiser and the Jeep Wrangler to see how they match up in specs!
| Feature | Toyota FJ Cruiser | Jeep Wrangler |
| --- | --- | --- |
| Engine Options | 4.0L V6 engine (260 hp, 271 lb-ft of torque) | 3.6L V6 engine (285 hp, 260 lb-ft of torque) |
| Transmission | 5-speed automatic or 6-speed manual | 6-speed manual or 8-speed automatic |
| 4×4 Capability | Part-time 4WD with rear differential lock | Command-Trac or Rock-Trac 4×4 systems |
| Ground Clearance | 9.6 inches | 10.9 inches |
| Towing Capacity | 4,700 lbs | 3,500 lbs (2-door) or 2,000 lbs (4-door) |
| Seating Capacity | Up to 5 passengers | Up to 4 passengers (2-door) or 5 passengers (4-door) |
| Cargo Capacity | 27.9 cu. ft. behind rear seats; 66.8 cu. ft. total | 12.9 cu. ft. behind rear seats; 31.7 cu. ft. total |
| Body Shape and Look | Boxy shape with a rugged appearance | SUV design with a boxy shape and angular lines |
Be advised this is a general specification chart. These specifications can vary depending on the model year and the region of origin.
Influences Of The Jeep Wrangler On The Fj Cruiser Vividly
Now let's talk about the influences of the Jeep Wrangler on the FJ Cruiser vividly-
Design
In general, these two look much alike from the outside. However, let's check out how else they are similar in terms of design.
The FJ Cruiser offers a boxy silhouette that boats off ruggedness and durability with a modern twist from every angle. Its bold and aggressive stance is further enhanced with the muscular fender flares around its massive tires. 
Plus, the headlights are round-shaped with a piercing gaze. The front grills are flanked with distinctively meshed and vertical slats that imitate the classic Jeep look.
Additionally, the ground clearance is very impressive too. The tires look quite beefy with aggressive tread patterns, which look born-ready to take on any off-road obstacles. 
On top of that, the rear has a spare tire for the obvious and practical reason of off-road adventures and adds a utilitarian appeal. This is an obvious upgrade that Jeep Wrangler doesn't have.
Well, this is the best part about the FJ Cruiser. Functionality, beauty, and practicality all meet here. And it's heavily inspired by the Jeep Wrangler's interior design. It's simple, organized, and highly functional.
The dashboard offers a modern layout of large and easy-to-operate buttons with a minimalistic touch for improved functionality. And it nearly matches the Wrangler's interior visibly.
Performance
The vehicles have somewhat similar when it comes to overall performance. Despite the Jeep Wrangler having a more powerful engine, the Toyota FJ Cruiser is not too far behind.
Under the hood, the FJ Cruiser offers a 4.0-Litre V6 engine that's capable of producing an acing horsepower of 260 and 271 lb-ft of torque. Whether you're on a muddy off-road with greater obstacles or on the highway, the FJ Cruiser won't compromise the thrill.
On the other hand, the Jeep Wrangler runs a little low on the engine's capacity as it's a 3.6-Litre V6. However, it gives off a superior horsepower of 285 which is better than the Cruiser.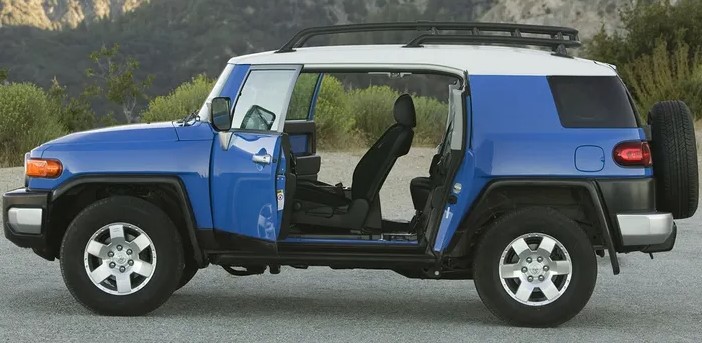 Apart from the powerful engine, the Cruiser also boasts a 4WD drive system with Torsen limited-slip differential. Plus,  the 6-speed manual transmission will allow you to change gears more precisely. Meaning you're getting superior traction and enhanced stability on all terrains. 
And to talk about the Wrangler's drive system, it's nearly the same. The Wrangler also boasts a 4WD system with a manual shift to the 2WD. It also offers a 6-speed manual and 8-speed automatic transmission, which is quite similar to the Cruiser.
The front of the FJ Cruiser features an independent double-wishbone suspension system, and the rear has a solid axle with a 4-link Coil-Spring suspension. 
On the other hand, the Jeep Wrangler features the "Air Suspension" system. It allows the vehicle to level automatically while towing. Plus, it gives an extra hand during off-roading.
Both suspension system offers ample wheel articulation and is capable of providing a smooth and stable ride every time.
Pricing
There are two types of costs that we are going to talk about here. First is the upfront price which is the cost of buying a Cruiser or a Wrangler. Secondly, we will talk about servicing costs such as replacing parts.
The FJ Cruiser's price ranges from $25,000 to $40,000 depending on the mileage and condition of the vehicle. It was discontinued in 2014, but you can still find one on the used market. The base model of the Wrangler costs roughly $28,000, while the Rubicon, which comes fully outfitted, may cost over $60,000.
The fact that Toyota has a big network of suppliers and dealerships makes it simpler to locate and buy FJ Cruiser parts. On the other hand, Jeep Wrangler parts may be more expensive and require special ordering or shipment due to their difficulty in sourcing.
FAQ
Let's take a look at some frequently asked questions.
How fuel efficient is a Jeep Wrangler compared to an FJ Cruiser?
Both vehicles have similar levels of fuel efficiency. The Wrangler and FJ Cruiser are both expected to achieve an average fuel economy of 18 miles per gallon.
Which is better for daily use? The Jeep Wrangler or Toyota FJ Cruiser?
Since the FJ Cruiser is a little bigger than the Wrangler, it could be more comfortable to operate on a daily basis, especially if you need to transport passengers or goods. Additionally, the FJ Cruiser offers a roomier cabin and a more pleasant ride, which might be vital if you want to use it as your main mode of transportation.
Bottom Line
Toyota has been around in the automotive industry for nearly a century now. Throughout this timespan, the company created many wonderful machines that are compared to none in terms of design or performance. And The Jeep LOOK-ALIKE "FJ Cruiser" is one of them. 
The FJ Cruiser is a fine off-road vehicle with a powerful engine, head-turning design, and a plethora of features. Plus, the performances are off the charts. Whether you're out off-roading or just for a long drive, the FJ Cruiser can be your reliable companion.
Also Read: