Jeep Trailhawk vs Trackhawk: Everything You Need To Know About
Trailhawk and Trackhawk are two identical Jeep SUVs built for very different personalities. While one excels at offroading, the other excels at on-roading.
So how does Trailhawk vs Trackhawk go head to head? The Trailhawk is primarily built for offroading, whereas the Trackhawk is for on-roading.  Trailhawk has an aggressive appearance for design, whereas the Trackhawk is sporty. Lastly, the Trailhawk engine is weaker than the Trackhawk.
Nevertheless, more factors need to be compared which cannot be fitted into a single paragraph. Moreover, the in-depth information is not even covered here, which is vital for making a decision. So, let's dig in deep with these two amazing SUVs.
Table: Trailhawk vs Trackhawk
A table distinguishing them might be helpful for pre-knowledge before we get too far into the discussion. 
| | | |
| --- | --- | --- |
| Factor | Trailhawk | Trackhawk |
| Engine Power | Comes with a V6 engine | Comes with a V8 engine |
| Performance | Exceptional ground clearance | Excellent speed and power |
| Design  | Aggressive look with protection against rocks, debris, and other items from the engine | Sporty look with an excellent cooling system |
| Interior | Durable materials | Luxury materials |
| Handling Features | Hill descent control and advanced traction management systems | Advanced driver-assistance features |
| Tire Size | 225/60 R18 100H  | 295/45R20 |
| Weight | 5,004 pounds | 5356 pounds |
| Towing Capacity  | 6200-pound | 7200-pound |
| Safety Features | Fewer safety features than the Trackhawk | Excellent safety features such as forward collision warning with active braking |
| Price Point | Almost half the price of Trackhawk | Almost double the price of Trailhawk |
In-Depth Comparison: Trailhawk vs Trackhawk
We are going to compare both of them in terms of each criterion that is taken into consideration when choosing a vehicle. 
Engine Power
Jeep figured out with low-end torque, precise throttle control, and instant response from the engine deliver smoother off-road performance. Well, that's why Jeep integrated the Trailhawk with a V6 engine that can provide all these delicately. The V6 engine comes with 271 horsepower and a torque of 239 lb-ft. Also, explore Jeep 3.8 Vs 3.6 Engine
On the other hand, the Trackhawk is integrated with a V8 engine that can provide users with an immense horsepower of 707 to rule the highways. Additionally, the torque on the Trackhawk is 645 lb-ft.
Here's a video that will help you decide whether you require a V6 engine or a V8;
Performance
You can count on the Trailhawk for your off-road adventures with exceptional height-adjustable Quadra-Lift air suspension systems, skid plates, and specialized tires. These are integrated in ways that make the Trailhawk sustain any terrain that you go throughout the journey. 
The Trailhawk's outstanding ground clearance is one of the primary elements that distinguishes it in terms of off-roading performance. While ordinary cars are raised to 6.3 inches, the Trailhawks are raised to 8.7 inches. Therefore, the vehicle can pass over obstacles without becoming stuck or harming essential parts.
On the other hand, the Trackhawk is specially designed for speed and power. The strong engine and amazing transmission system work together to give the Trackhawk impressive performance. It even holds the record to go from 0 mph to 60 mph within 3.5 seconds. 
When it comes to the suspension system, it has an adaptive suspension system enabling more stable and precise control when performing high-speed maneuvers.
To differentiate between the two suspensions, the adaptive suspension system continuously adjusts damping to maximize ride comfort and handling performance. Whereas, the height-adjustable Quadra-Lift air suspension system emphasizes altering ride height for off-road capabilities
Design
The designs for off-road vehicles and on-road vehicles are different. So, the Trailhawk provides its user with a more prominent front grille, skid plates, and tow hooks.
The front grille makes sure that the grille serves as a barrier between the engine compartment and the rocks, debris, and other items.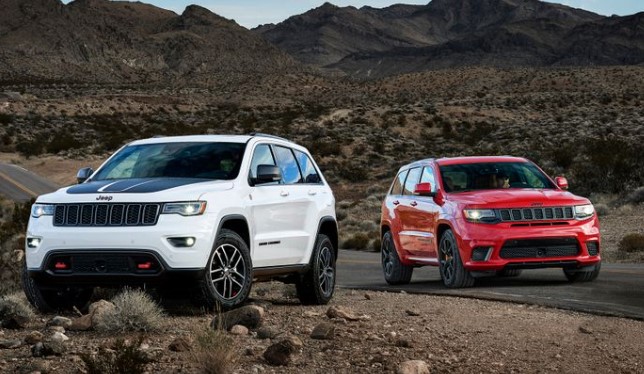 Similarly, the skid plates safeguard the transmission system from the outer world. And the tow hooks secure attachment points for recovery and towing operations.
On the other hand, the Trackhawk focuses more on on-road performance. They come with a sporty look and exceptional aerodynamics to make the road journey smoother. 
The larger air intake is one of the primary designs that help them on their on-road journey. As on-roading often involves traveling at higher speeds, it necessitates providing the engine with more air for combustion. Thus, its larger air intake ensures optimal fuel combustion and maximum power. 
Likewise, the Trackhawk comes with quad tips. This contributes to the aesthetics, sound enhancement, and persuasion of the capability of the Trackhawk.
Interior
The Trailhawk's interior features are designed to ensure you give the vibe of your home even when off-roading. Moreover, the seats are all made to be durable rather than fancy. Thus, you will come across water-resistant seats and durable materials.
On the other hand, the Trackhawk's interior is designed for luxury. You will see leather seats and real wood or carbon fiber trim accents. Furthermore, features like an excellent audio system and a large touchscreen infotainment system are present to meet your day-to-day needs.
Handling Features
Handling features are quite necessary for a hassle-free ride. Fortunately, both Trailhawk and Trackhawk come with handling features to make your journey smooth.
The Trailhawk comes with hill descent control and advanced traction management systems to make sure that your off-roading journey is safe. Whereas the Trackhawk comes with advanced driver-assistance features to help you on the road.
Fuel Efficiency
Due to a more powerful engine in the Trackhawk, it loses to the Trailhawk in terms of fuel efficiency. A V8 engine would certainly consume more fuel to function properly than a V6 engine.
Overall, the Trailhawk has a combined fuel rating of 21 miles per gallon. Whereas the Trackhawks have a combined fuel rating of 17 miles per gallon.
However, when it comes to the fuel efficiency difference between city and highway, the Trailhawk wins in one lane and draws in the other. For city riding, both Trailhawk and Trackhawk provide a mileage of around 11 MPG. Whereas for highways, the Trailhawk provides 25 MPG and the Trackhawk provides only 17 MPG. 
Tire Size
Tires are important to keep up with the desired performance of your vehicle. So the Trailhawk comes with tires sized  225/60 R18 100H which are built for ruggedness and off-road capability. 
Whereas, for the Trackhawk, the size of the tires is 295/45R20 which is bigger than the Trailhawk. It's mostly due to the fact that bigger tires have the capability to accommodate their performance capabilities. 
Weight
Due to the fact that V8 engines are generally way heavier than V6 engines, it's safe to say that Trackhawks are more heavy. In comparison, the Trailhawk is about 5,004 pounds whereas the Trackhawk is 5356 pounds.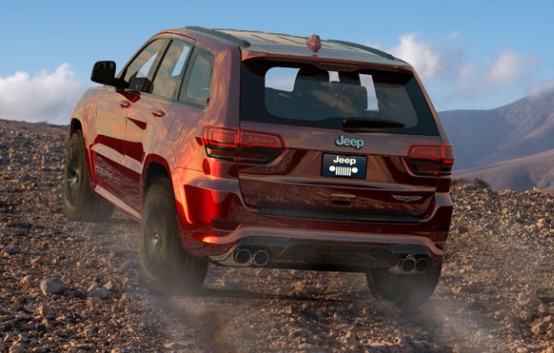 Towing Capacity
In terms of towing capacity, the Trackhawk certainly wins by a big number. The Trailhawk can tow up to 6,200 pounds, whereas the Trackhawk can tow up to 7,200 pounds. 
This towing difference is due to the engine difference between the two. The Trackhawk has a more powerful engine and this is what allows it to tow a heavier object than the Trailhawk.
Safety Features
When it comes to safety features, both provide excellent features to help the driver and the passenger. However, in comparison, the Trackhawk wins. 
Some additional features that are not available in the Trailhawk SUV are;
Forward collision warning with active braking
Blind-spot monitoring with rear cross-path detection
Parallel and perpendicular park assist
Lane departure warning with lane keep assist
Price Points
Lastly, how can we leave out the price point in our comparison discussion? Well, naming just the price isn't possible as the numbers vary so much depending on the optional features and current market conditions. Also, the place you are buying your SUV from. 
However, we can say that the Trackhawk is significantly more expensive than the Trailhawk. Moreover, the difference is almost double. While the Trailhawk costs about $56,030, the Trackhawk costs around $87,650. It's mostly due to the additional features and higher engine capability.
FAQs
Let's check out some commonly asked questions regarding Trailhawk vs Trackhawk.
Q: What are the reviews on Trailhawk and Trackhawk?
Both of them have their positive and negative reviews. However, we found that Trailhack and Trackhawk had more positive ones than negatives. Thus, you can trust them in their specialty, off-roading and on-roading. 
Q: What is the difference in warranty coverage between Trailhawk and Trackhawk?
There is no difference between the warranty coverage of the Trailhawk and the Trackhawk as they come from the same company. Thus, the standard Jeep warranty of 3 years or 36,000 miles is applied to both of the vehicles. However, the warranty period may vary equally for both vehicles depending on the region you are buying it from. 
Q: Can I Use The Trailhawk For On-Road Driving?
While the Trailhawk excels at off-roading, this doesn't make it bad for on-road driving. To sum up, its advanced suspension system, larger wheels, and tires make it a capable and comfortable vehicle for everyday use on paved roads.
Conclusion 
To conclude, that was all you needed to know to make an informed decision about Trailhawk vs Trackhawk. The Trailhawk has a V6 engine which provides a mileage of 25 MPG on highways. Additionally, provides comfortable and durable seats that come in half of the price of a Trackhawk.
On the other hand, the Trackhawks excels in performance with its V8 engine. However, has a lower mileage in highways of only 17MPG compared to the Trailhawk. Nevertheless, even though it's almost double the price of Trailhawk, it comes with leather seats and a luxurious interior.