Mercedes G-Class: Mercedes That Looks Like Jeep
When people think of a Mercedes, they usually picture a sleek and luxurious sedan or sports car. But what if we were to tell you that there's a Mercedes out there that combines the best of both Mercedez's class and Jeep's off-road performance?
Mercedes-Benz G-Class, that's right, it's a Mercedes that looks like Jeep. This vehicle combines the sleek and refined aesthetics of a Mercedes with the rugged and adventurous spirit of a Jeep. It's one-of-a-kind that appeals to both luxury and off-road adventurers.
While some may be suspicious of this unexpected combination, there are several reasons why this vehicle is turning heads and making waves in the industry. Let's take a closer look at what makes this vehicle so unique.
Introducing the Mercedes that Looks Like a Jeep
The Mercedes G-Class, often called the "G-Wagon," is a luxury SUV manufactured by Mercedes-Benz. While it may share some visual similarities with specific Jeep models, the Mercedes G-Class has a unique and iconic design. 
See the similarities between G-Class and other Jeeps in the following table.
| Aspects | Mercedes G-Class | Other Jeep |
| --- | --- | --- |
| Box-shaped body | The Mercedes G-Class has a distinct box-shaped body with sharp angles and a rugged appearance. | Jeeps also have boxy bodies with straight lines and sharp angles, giving them a similar rugged look. |
| Grille and headlights | They have a prominent grille with vertical slats and round headlights positioned at the edges of the front fascia. | They feature a prominent grille with vertical slats and round headlights at the edges. |
| Fender flares | The G-Class has wide fender flares that add to its aggressive stance and off-road capability. | Jeeps often come with similar wide fender flares. |
| Roof design | These cars have a flat roof with a squared-off rear end, giving them a utilitarian and purpose-built look. | Jeeps also have a flat roof with a squared-off rear end. |
| Off-road capability | The G-Class is known for its exceptional off-road capability. | Jeeps offer similar features like four-wheel drive and high ground clearance. |
| Towing capacity | 3,500 kg | 2,800-3,500 kg |
| Wading capacity | 27.9 inch | 29.9 inches on average |
| Customization option availability | Yes | Yes |
| Boot Space | 1,246 liters | 1,500 liters |
Mercedes that Looks Like a Jeep: An In-Depth Dive to Mercedes G-Class 
Now that you know how the Mercedes G-Class looks like a Jeep, let's take it to the next level for a deeper understanding. 
Box-Shaped Body
This car has a box-shaped body reminiscent of the classic Jeep design. The squared-off shape with sharp edges and angles gives the G-Class and Jeeps a rugged and practical appearance. 
This design is functional, providing ample space for passengers and cargo, and exudes a sense of toughness often associated with off-road vehicles.
Grille and Headlights
The grille and headlights of the Mercedes G-Class resemble those found on Jeeps. The G-Class features a bold and upright grille with a large Mercedes emblem in the center, flanked by round headlights. 
Similarly, Jeeps are known for their distinctive grilles, often featuring vertical slats and round headlights, giving them a unique and recognizable look.
Fender Flares
The Mercedes G-Class, like some Jeep models, features fender flares that protrude from the body, giving it a muscular and aggressive appearance. 
These fender flares are stylish and functional, providing additional clearance for larger tires and protecting the body from debris when off-roading.
Roof Design
Like other Jeep models, the Mercedes G-Class features a flat roof design, enhancing its boxy silhouette and providing practicality. The flat roof allows for easier installation of roof racks, roof tents, and other accessories, making them ideal for outdoor adventures.
Off-Road Capability
G-Class is renowned for its off-road capabilities. They're designed to tackle challenging terrains and offer features such as four-wheel drive and advanced suspension systems that provide exceptional off-road performance.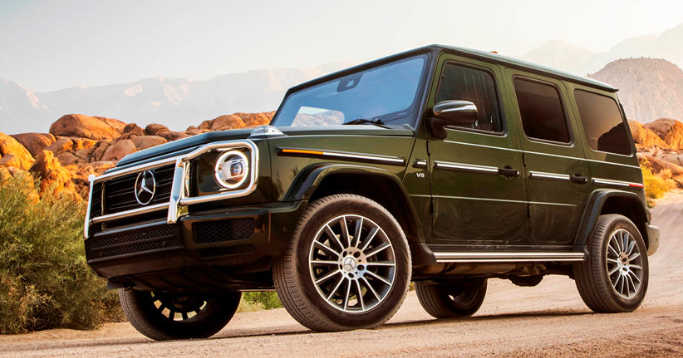 Towing Capacity
The towing capacity of a Jeep car is a crucial specification that determines the maximum weight a Jeep vehicle can safely tow behind it. And the G class has the same 3500 kg towing capacity, similar to some Jeep models.
Four-Wheel Drive System
The Mercedes G-Class has a four-wheel drive system that provides superior traction and control on various surfaces, including mud, snow, and sand. This is also a common feature in Jeeps, allowing for better off-road performance and versatility.
Customization Options
Both the Mercedes G-Class and conventional Jeep models offer a wide range of customization options, allowing buyers to personalize their vehicles according to their preferences and needs. 
They allow owners to personalize their vehicles with accessories such as roof racks, winches, off-road lights, and other aftermarket modifications to suit their needs and preferences.
Powerful Engine
The Mercedes G-Class is known for its robust and powerful engines. Depending on the model and trim level, it typically comes with a range of high-performance engines, including 416-hp twin-turbo V-8 options. 
This gives the G-Class ample power for off-road adventures and allows it to tackle challenging terrains like a traditional Jeep.
Wading Capacity
The G-Class is known for its impressive wading capacity, which refers to its ability to drive through water without damage. 
It typically came with a high ground clearance (27.9 inches) and sealed electrical components allowing it to navigate water obstacles. On the other hand, the average ground clearance for most Jeeps is around 30 inches. 
Boot Space
The Mercedes G-Class offers a decent amount of boot space. The boot space capacity may vary depending on the G-Class's specific model year and trim level.
For example, the 2023 Mercedes G-Class has a boot space capacity of up to 1,246 liters, with the rear seats folded down, providing ample room for luggage or other bulky items.
Conclusion
The G-Class is a model of Mercedes that looks like Jeep cars. It has gained popularity over the years due to its rugged and boxy design, which resembles the classic Jeep. Despite its appearance, the G-Class offers luxury and unparalleled performance in the SUV market. 
With its advanced technology, powerful engine options, and luxurious interior, the G-Class is a testament to Mercedes' commitment to innovation and design. 
You may look for a stylish and capable off-road vehicle or a luxury SUV that can handle any terrain. The Mercedes G-Class is an excellent choice for any driver.
Also Read:
Models Of Ford That Looks Like Jeep: Get The Style Of A Jeep Without Breaking The Bank