How Much Does A Jeep Cherokee Weigh? Know Everything That You Need To Know
Depending on the weight of a Jeep Cherokee, its engine power also varies. Also, different features and mechanisms play a role in increasing their weights. Thus, before buying the Jeep, you must have explicit knowledge about its weight, features, and performance.
So, how much does a Jeep Cherokee weigh? Generally, their weight will range between 2860 lbs and 4892 lbs depending on their generation, model years, and models. The curb weights of SJ, XJ, KJ, KK, and KL models weigh 4414 lbs,3357 lbs,4312 lbs, 4780 lbs, and 4354 lbs, respectively.
In this article, we will enlighten you about the weights of these Jeep models, and their performance. You will also learn about their towing capacity. So, let's go through the article.
Table: Weights Of 5 Different Models Of Jeep Cherokee
Here are the weights of different models of this jeep with their model years:
| | | | |
| --- | --- | --- | --- |
| Model Name | Model Years | Weights(lbs) | Weights(kgs) |
| Jeep Cherokee SJ | 1974-1984 | 4514 | 2048 |
| Jeep Cherokee XJ | 1985-2001 | 3357 | 1523 |
| Jeep Cherokee KJ | 2002-2007 | 4312 | 1956 |
| Jeep Cherokee KK | 2008-2013 | 4780 | 2168 |
| Jeep Cherokee KL | 2014-present | 4354 | 1975 |
How Much Does A Jeep Cherokee Weigh?
The weight of your Jeep Cherokee will vary depending on its model and model year. Generally, the varying technologies and specifications of different models play a role in their varying weight. The quality and size of the tire and trim will also be responsible for the weight of your Jeep.
Jeep Cherokee SJ: This first generation Jeep Cherokee has a sportier look with L×W×H of 186.4inch×(74.8-78-7) inch×66.4 inch. With these dimensions, the jeep weighs around 4514 lbs or 2048 kgs. Also, the engine power of these jeep models ranges around 110-195hp.
Jeep Cherokee XJ: The dimensions of this Cherokee model will vary with the model year. Generally, the L×W×H varies in the range of 165.3 -169.2 inches, 67.7-70.9 inches, and 63.3-66.9  inches respectively. 
With these dimensions, the curb weight will range from 3,031 to 3,664 lb approximately. On average, the curb weight for the XJ model will be 3357 lbs.
Jeep Cherokee KJ: Manufacturer produced this Jeep model from 2002-2007. Typically, the L×W×H of this model are 174.2-174.7 inches× 71.1-71.8inches× 69.8-73.2 inches. 
You will see that the KJ 2005-2007 models have lesser height than their previous models. Generally, the curb weight of the KJ ranges between 3508 and 4312 lbs.
Jeep Cherokee KK: It's a compact SUV model which is larger than mini SUVs, but smaller than mid-size SUVs. The L×W×H of this model may vary between 176.1-176.9 inches, 72.4- 73.1 inches, and 71.3-74.9 inches. 
You may find these models with 4-speed, 5-speed automatic, and 6-speed manual transmissions. With all specifications, the KK model's curb weight will be around 3,985–4,780 lbs.
Jeep Cherokee KL: It's the fifth generation Cherokee model, with L×W×H of 182 in×(73.2-74.9) in×66.2–67.8 in. 
Depending on the model years, this model may weigh around 3,655–4,354 lb. Most importantly, this model provides almost 45% greater fuel economy than previous models.
Does the Weight Of Cherokee Affect Its Performance?
No. The weight of the Cherokee won't affect its performance. Instead, it will provide a better driving experience. Generally, the jeeps with higher trim will come with more additional features, parts, and mechanisms. Typically, the additional features that are responsible for heavier weight for the Jeeps are: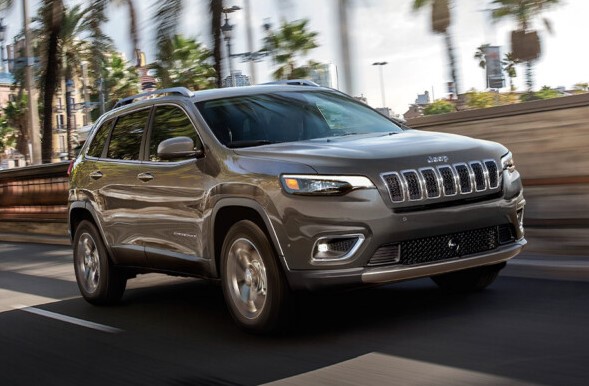 Panoramic sunroof
Power-adjustable seats
Airbags
4-wheel drive 
Manifold sheet
Steering gear of better quality 
Anti-theft safety systems 
For this, the stock engine power of those jeeps also will come with additional powers. That's why, you don't have to worry while buying higher trim models of this jeep.
Therefore, heavier models will also last about 200000-300000 miles like any other lighter models. But, for this, you need to follow the proper maintenance routine for your jeep. Otherwise, the jeeps might not last till their maximum lifespan whether they are lighter or heavier models.
Here are a few model years of Jeep Cherokee, their weights in lbs, and their engine power in hp:
| | | |
| --- | --- | --- |
| Model years | Weights(lbs) | Engine Power(hp) |
| 1974-1983 | 4385-4514 | 105-194 |
| 1984-2001 | 2860-3360 | 105-194 |
| 2002-2007 | 3400-4485 | 200-240 |
| 2008-2013 | 4475-4892 | 206-296 |
| 2014-present | 3495-4354 | 180-279 |
The first generation of this jeep which was 1974-1983 had relatively less engine power for their weights. Then, the manufacturer manufactured the successor model years with a balanced hp with the jeep weights. Also, know how much does Jeep Liberty weigh
If you notice the table carefully, the weight of the SUV increased much after 2002. There was a recall of this 2002 Jeep model as many users reported problems with improper exhaust systems. The reason behind this issue was debris accumulation in the exhaust system. 
Hence, the manufacturers resolved this issue by adding manifold sheets which provide enhanced air crossing. Besides, in the next generation of this jeep, problems with controlling the jeep occurred. Then, the manufacturer solved this issue by improving the quality of the steering rack.
All of these reasons are responsible for increasing the mass weight of the Jeep after 2002. But, it also comes with balanced engine power and better facilities. 
Check this YouTube video to understand how modification of the jeep with additional features increases the previous weight.
Whether Lighter Or Heavier Jeep Cherokee Is Better?
Which one is better, lighter or heavier Cherokee models will depend on the users' preferences. 
Heavier Jeep Cherokee
Here are some advantages and disadvantages of the Heavier models:
Advantages 
The advantages of the heavier jeeps are:
A heavier vehicle typically will have traction. This better traction is beneficial in slippery and off-road conditions.
They can be more stable on the road due to their heavy weight.  
The heavier Jeep Cherokee will have a higher towing capacity. This will allow you to tow larger trailers.
Heavier models can provide better protection in collisions with smaller vehicles due to their mass.
Disadvantages
Here are some disadvantages of the heavier Cherokees:
They will consume more fuel, leading to engine overheating, lower gas mileage, and increased operating costs.
Due to their heavy weight, they may have slower acceleration and responsiveness. This may affect its performance in city driving.
Lighter Jeep Cherokee
Here are some advantages and disadvantages of lighter-weight Cherokees:
Advantages
The advantages of the lightweight Cherokees are:
The aluminum material in the front cradle will protect their surface from dents during accidents.
Have more acceleration speed.
Provide short brake distance. Besides, even if you are at high speed, you can brake suddenly.
Better fuel economy than the heavier ones.
Disadvantages 
The lighter-weight Cherokees have the following disadvantages:
Lower towing capacity
Have reduced traction which results in drawbacks while driving off-road or on slippery roads.
Due to lighter weight, they have lower stability on the road at high speeds.
Thus, while choosing one between these two options, you need to consider factors like fuel efficiency, handling, and intended use. If you are more into off-road driving, then heavier-weight Jeep models are suitable for you. 
Similarly, for driving peacefully on city roads, you better choose lighter-weight models. Besides, for getting better fuel economy, choosing a lighter one is wiser than choosing any heavier model.
Is Towing Possible With Jeep Cherokee?
Generally, the Jeep Cherokees aren't designed for towing. Yet, you can tow less than 1000 lbs easily with this jeep. Without appropriate upgradation, towing over 2500 lbs can result in compromising the jeep's safety. On the other hand, with additional upgrades, you can tow up to 4500 lbs with it. 
For example, if your jeep has a 2.1L turbo engine, you can safely tow around 3500 lbs. Also, when the jeep contains a 3.5L turbo engine, towing 4000 lbs won't cause any safety risk.
In the case of flat towing, you can't flat tow a Jeep Cherokee which comes with 2WD. But, you can tow it easily if the jeep consists of a 2-speed power transfer unit or ActiveDriveII. The trim levels, which will consist of these features are:
Altitude(4×4)
High Altitude(4×4)
Latitude(4×4)
Latitude Plus(4×4)
Latitude Lux(4×4)
Trailhawk
Trailhawk Elite
Limited(4×4)
Generally, you can tow wooden boats, jet skis, pop-up campers, and trailers with your vehicles. Besides, you can tow any other SUV weighing up to 3000 lbs. But, make sure you are not overloading your Jeep by exceeding its towing range. Because it will hamper the power steering stability during driving. Also, explore does towing a Jeep puts miles on it
FAQs
In this FAQs section, we will answer a few common questions about the Jeep Cherokee.
Q1: What Is The Main Concern While Adding Weight In Modifications Of My Cherokee?
You need to add accessories while modifications of your car according to the jeep's engine power. If your jeep has less power, adding heavy accessories may affect the jeep's engine power and performance.
Q2: Whether 2 Wheel Or 4 Wheel Drive Cherokee Is Heavier?
The 4-wheel drive of the Jeep Grand Cherokee is heavier than the 2-wheel drive. Generally, the former one will weigh around 5050-5950 lbs, whereas the latter one weighs 4850-5750 lbs.
Conclusion 
The latest models of Jeep Cherokee come with additional features and engine power which balance their performance. So, how much does a Jeep Cherokee weigh? Typically, the weights will vary around 2860-4892 lbs with varying power of 105-296 hp. 
Though their weight doesn't hamper their performance, heavy Jeep models will have poorer fuel economy than the lighter ones. However, the heavier models provide better stability and towing capacity. Generally, you can tow 1000 lbs with this jeep, and with upgrades, the capacity may rise to 2500-4500 lbs.